Perspectives: January 2015
Corporate Political Activity Shareholder Resolutions Since 2010

By Heidi Welsh, Executive Director, Sustainable Investments Institute
As companies and investor gird up for the 2015 proxy season, they will tussle again over what has become an intractable national issue, the nature and extent of corporate involvement in politics. In the last five years, 530 shareholder proposals filed about corporate political activity—spending on elections, lobbying and related issues—have dominated the slate of shareholder resolutions on companies' proxy statements. They have made up not only the biggest single category of filings overall but also the biggest category of proposals voted. Most of the political activity proposals ask for more disclosure (85 percent of those filed, including 118 in 2014), requesting more information about how companies govern their election spending and their lobbying, as well as what they spend. (See chart below.)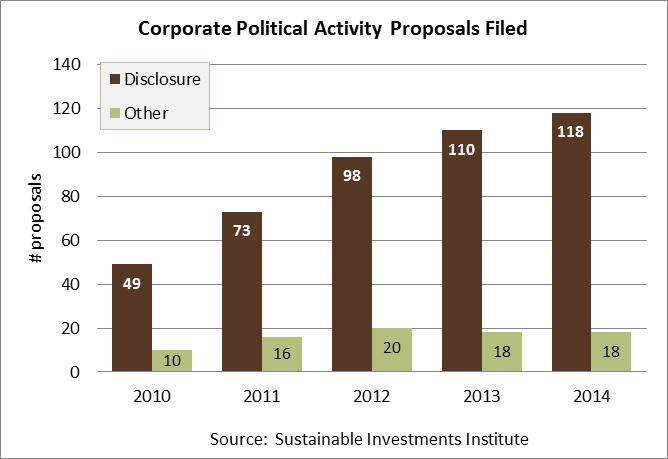 Support for disclosure proposals averaged 28.2 percent1 from 2010 to 2014. Within this group of resolutions, those using the template of the Center for Political Accountability (CPA) have earned the most (30 percent), although lobbying disclosure resolutions that ask about spending at the federal, state and local level nonetheless have earned on average just under 25 percent. Increased scrutiny of corporate spending and lobbying at the state level—where it goes much further than in Congressional races—seems likely; this includes the highly contentious battle over hydraulic fracturing and shale energy extraction and the Keystone XL pipeline.
Rapid uptake by corporations of more robust oversight and disclosure on this issue clearly seems to be prompted by the large number of high votes—which come in a range that makes boards pay attention. In all, for instance, nine of the disclosure proposals have earned more than 50 percent of the shares cast for and against, on lobbying (at Alliant Techsystems, SLM, Lorillard, Valero Energy) and on elections (at CF Industries, Sprint, WellCare Health Plans, Dean Foods and H&R Block). Nearly 80 percent of the votes on disclosure have been above 20 percent. (See pie chart.)
Other shareholder proposals on social and environmental issues that earn similarly high votes are withdrawn by the proponents in much larger proportions. This shows that while companies increasingly are opting for more transparency, this isn't always true. About 70 percent of the filings on political activity from 2010-2014 have gone to votes, compared with much lower proportions for resolutions on issues with similar levels of investor support such as sustainability reporting (27 percent voted on) and climate change (40 percent voted on). A common sticking point in negotiations that sometimes lead to withdrawn proposals is how much companies will disclose about their indirect spending through trade associations and other non-profit groups. Still, CPA investor partners withdrew 10 resolutions after reaching agreements in 2014.
Proposals about lobbying disclosure started appearing in earnest in 2012, with 39 resolutions; that number expanded to about 60 in 2014, including five on intermediary lobbying and the American Legislative Exchange Council and seven about climate change lobbying. This latter number is likely to grow given the interest in political action on climate change from CDP (formerly the Carbon Disclosure Project) and the Ceres Coalition. One good example of the confluence of energy and politics was the near majority vote (49.4 percent) for a CPA proposal at Duke Energy last year, where incensed stakeholders asked about the company's February 2014 coal ash waste spill in the Dan River.
While disclosure is the dominant theme in political activity proposals, 22 in the last five years also have asked companies to stop spending all together. In 2014, proponents made this case grounded in concerns about what they see as undue corporate influence on genetically modified food and recent spending on ballot initiatives on labeling in California and Washington State. Investors are chary, though—the five-year average for spending bans is only about 4 percent.
1 Votes are calculated as votes for as a percentage of votes cast for and against, excluding abstentions and broker nonvotes
About the author:
Heidi Welsh is Executive Director of Sustainable Investments Institute (Si2). Si2 provides impartial research about proxy season and sustainability issues to institutional investors. A detailed analysis of 2014 proxy season results related to corporate political activity is on Si2's website.