Creative Staffing
Perhaps more than ever before, employers need flexible approaches to hiring, training, and retaining key employees. They want innovative ways to use contingent workers, retirees, and alumni to keep businesses operating at peak efficiency.
The Mature Workforce Initiative investigated the public policy framework and use of flexible staffing arrangements for older workers, along with the trend toward phased retirement. It looked at ways to capture both the knowledge that mature workers have accumulated at their jobs, as well as their spirit of volunteerism and civic engagement to see how these traits can extend employers' community outreach. Companies discovered that strategically planning for the use of their workforces and enabling workers to fully plan their careers and retirement as they mature is beneficial for employees and, more importantly, the bottom line.
Gray Skies, Silver Linings: How Companies Are Forecasting, Managing, and Recruiting a Mature Workforce is the leading piece of research by The Conference Board in the area of creative staffing for the mature workforce. It provides approaches for companies to assess whether their aging workforce is a threat or an opportunity, and case studies of organizations that have successfully managed their staffing needs, such as Abloy Oy's "Agemaster" program and Bon Secours Richmond Health System's (BSRHS) tiered retirement program. During the research, a BSRHS executive said: "We don't look at anyone as too old to work." The case studies also feature CVS Caremark, which has been recruiting older workers so its workforce more closely matches its customer base.
No discussion of creative staffing would be possible, however, without understanding the Pension Protection Act of 2006. In Phased Retirement After the Pension Protection Act, published in 2007, the Mature Workforce Initiative looks at how the act allows companies to pay pension benefits to employees aged 62 and older who are covered by a defined benefit plan, even if they continue to work.
Yet even these changes may not be sufficient. "Can Continuing Changes in Pension Management Provide a Secure Retirement?"—an Executive Action paper issued by the Mature Workforce Initiative in 2008—notes that seven out of 10 people surveyed want to continue working in retirement. In addition, 59 out of 69 participants in a webcast poll indicate their company would likely have a phased retirement program within three years.
When the two pension-related documents were published, however, the U.S. Internal Revenue Service had not issued the final regulations relating to this act, raising the possibility that U.S. pension structures and funding alternatives would not be structured to match interest in phased retirement. While the regulations have since been issued,2 companies must now assess how retirement desires will change in the wake of the current economic downturn.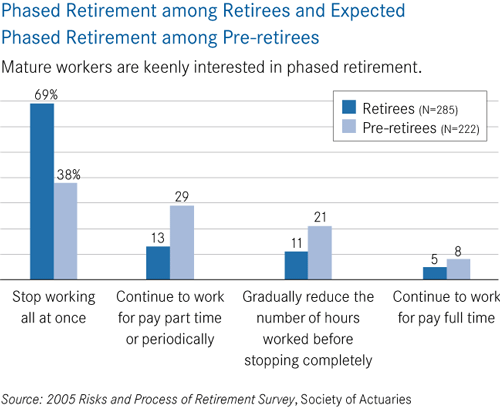 Report credit: Anna Rappaport and Mary Young, Phased Retirement After the Pension Protection Act, The Conference Board, Research Report 1402, 2007, p. 21.
--------------------------------------------------------------------------
2. The final regulations were published in the Federal Register
on February 24, 2009.