Changes and Choices
The Rapidly Evolving Business Cases for Employing Mature Workers
America's baby boomers have dramatically reshaped everything they have touched, from child rearing to health care, housing, and education. Their changes have been particularly apparent in the workplace, where they have pushed companies to harness their talent on a scale previously unthinkable.
In 2006, the oldest of the 78 million baby boomers turned 60. If this group of workers behaved like the preceding generation, most would be well-settled in retirement plans by now. But boomers are determined to once again do things their way: They intend to remain very active, on the job, and involved in community service.
The continued presence of these mature workers presents both opportunities and challenges for employers. In 2005, The Conference Board began exploring this issue to help U.S. business leaders and policy makers better understand the importance of engaging mature workers in employment and community service.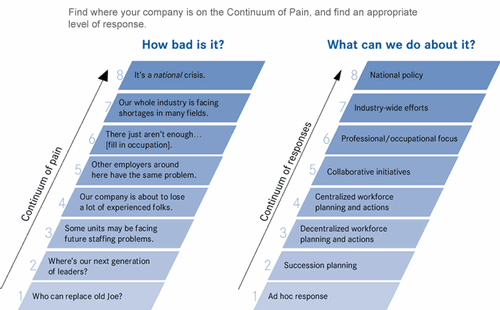 With the support of the Atlantic Philanthropies, The Conference Board launched the Mature Workforce Initiative, which incorporated a combination of conferences, cross-industry professional groups, and research working groups to examine key questions surrounding older workers. It produced a wide range of research to educate employers on the best ways to retain the commitment, skills, and knowledge of mature workers; explore new models for their retirement; transition their corporate skills to use in the nonprofit world; fully involve mature workers in a multigenerational workforce; and recruit and attract them when needed.
This research shows that making a one-size-fits-all business case for hiring and retaining mature workers is not possible. Depending on their industry, leadership, customers, and corporate culture, some companies will make greater use of mature workers than others. While a number of enterprises want to learn from and profit by boomers' accumulated experience, others do not see the need. For organizations that have already completed strategic workforce planning, The Conference Board's research offers a look at implementation methods and pitfalls. For companies that have not analyzed their workforce dynamics but have begun to experience the "Continuum of Pain" of boomer retirements, this research provides insight into effective planning.
Companies have other obligations as well, most notably to effectively manage their workforce regardless of age. That means using planning and performance review tools they already have at their disposal. TheMature Workforce Initiative provides businesses with information to make a better financial analysis of the costs and benefits of their older workers—in essence, to create their own business case.
The Mature Workforce Initiative offers the inescapable conclusion that public policy makers still have work to do. The Pension Protection Act of 2006 made much-needed changes to the disbursement of retirement funds to older workers, making phased retirement a reality. Similar changes need to be brought to other areas, such as the laws and contract language on overtime. In a competitive global economy, overtime is a critical planning tool and The Conference Board's findings show that age and overtime are not an impossible combination.
The research holds important conclusions for employees as well. Older workers need to actively manage their careers, participate in a multigenerational workplace, and assiduously acquire necessary skills to remain attractive to their employers. This focus on employee responsibility in addition to employer needs sets The Conference Board's research apart from other studies on mature workers.
This initiative offers a new framework to examine the social contract between older workers and their employers, including pensions and retiree medical benefits. The expansion of the U.S. budget deficit, increased pressure on Social Security funding, and impending changes to health insurance all call for a frank discussion of expectations and possibilities. The Mature Workforce Initiative research can be a valuable resource in these discussions.
Changes to the social contract may also portend changes to nonprofit service by boomers. Many mature workers feel an obligation to give back to society, and their spirit of volunteerism has been a boon for nonprofits. As full-time employees, many participated in corporate social responsibility projects and outreach that introduced them to the possibility of switching to the nonprofit sector.
Boomers' interest in nonprofits could be opportune because the sector is facing both looming retirements from older members of this generation and a growing demand for social services to aid them. In 2007, theMature Workforce Initiative found that nonprofits lag the government and private sectors in recruiting and retaining mature workers. Nonprofits have since made great progress in this area, but their efforts can be hampered by funding restrictions. Many funders will support only the services nonprofits provide, not infrastructure or operating costs. This leaves the nonprofits unable to create the human resources functions that could serve internal needs and effectively recruit from the outside.
Despite difficulties brought on by the current economic climate, mature workers will continue to play an important role for employers in the future. Many boomers view traditional retirement age not as the end of their productive years, but as the beginning of a new application of their skills. The youngest of this cohort will not turn 65 until 2031, and in that year, there will still be nearly 58 million living boomers.1 The far smaller size of the age cohort behind them is a prescription for gaps in the labor market over the next two decades.
Answers uncovered through the Mature Workforce Initiative dispel myths and lay groundwork for a reexamination of the role mature workers can play in modern corporations. This report guides employers through research produced for the Mature Workforce Initiative by theme. It also points out to employers which issues still need exploration as mature workers help rebuild the global economy.
A Roadmap to Research
Dozens of subjects were explored to produce the reports, action alerts, and guides that form the heart of the Mature Workforce Initiative. Some topics are the main focus of one single report, while others resonate across several publications. The bulk of the research, however, revolves around nine key themes:
Clicking on each theme name will lead to a summary of the research and supplementary materials related to that theme, both in print and on the Internet.
Making the Case for Older Workers
Writing one business case for hiring and retaining mature workers that makes sense for every company is impossible. But the findings do raise questions that companies can ask to make their own case for engaging older workers:
What are the issues and opportunities facing this business or division?
How will a mature workforce initiative meet those needs?
Which knowledge and skill sets will be the most affected by boomer retirements?
How long do we have to address the gaps that boomer retirements will bring?
What can we do to help mature workers transfer their knowledge?
What role could phased retirement play?
Will a mature workforce initiative benefit other generations in the workforce? How can it be designed to do so?
Should we recruit mature workers? For which positions?
How do we find and attract those workers?
What will happen if we fail to engage our mature workers?
What resources do we need to carry out a mature workforce initiative?
What results can we expect to see? When? And how can they be measured?
--------------------------------------------
1 U.S. Bureau of the Census,