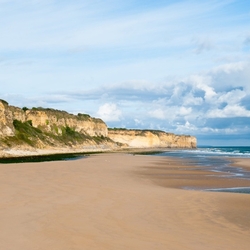 Normandy Leadership Experience
Gain insights into managing complexity and navigating the unexpected
Some events don't just change the course of history – they change the way you see yourself and the world. During The Conference Board D-Day at Normandy Leadership Experience, you will walk in places where feats of courage came up against the limits of planning, and leaders faced split-second, life-or-death decisions amidst chaos and carnage.
The stories of D-Day will make you reconsider what you thought you knew about managing complexity, responding to fast-changing circumstances, and never giving up. Beyond its place in history, Normandy was a profound test of leadership, yielding insights that remain highly relevant today:
Time and again, men in Normandy took the initiative to cope with the unexpected, demonstrating the need to stay focused on goals while acting with flexibility and empowerment.

In the face of a major logistical challenge, the allies built their own port and brought it to the shores of battle, an innovation that holds lessons about seeing past the impossible.

D-Day required coordination among diverse countries, cultures, leaders and teams, a story with parallels to today's multi-national corporations and complex supply chains.

Despite unprecedented planning, everything that could go wrong – from the weather to critical communication – often did. D-Day shows how the smartest planning prepares you to respond in the moment.

Many at Normandy acted with conviction, commitment, even calm, revealing how organizations can inspire people to bring their best to the most trying circumstances.
The power of these stories means you will gain new perspective on much more than history, but your own organization, leadership style, strengths and challenges. As you put yourself in the position of leaders who made decisions under intense pressure, you will engage in rich discussion combined with moments of reflection to foster even deeper insights.
You will discover how to:
Remain focused on strategic priorities, recognizing the difference between the critical and the important
Inspire commitment, creativity and purpose when your organization faces losses or multiple challenges
Balance the need for clear plans with flexibility in implementation
Your team will discover how to:
Make the best decisions possible in the face of uncertainty and fast-changing circumstances
Manage effectively through chaos when reality trumps planning
Mobilize themselves around a common purpose
Be empowered to take the initiative in support of your organisation's strategy
Define competing priorities as crucial versus important
Your organization will explore how to:
Create an organizational structure to manage complexity across geography, departments, cultures and teams
Hone your strategy based on your competitors' advantages and disadvantages
Create the environment for trust, focus and strategy into action
One-sheet
To learn more about the Normandy Leadership Experience, download the one-sheet below.