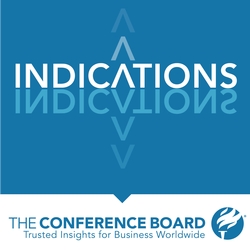 Indications: The Conference Board Podcast
Indications is a public podcast featuring our global roster of thought leaders. Ranging from economic growth and competitiveness to human capital, governance, sustainability, and beyond, each episode is a serious conversation grounded in data and insights that will keep you ahead of the curve in a turbulent world.
Stream and download episodes below, or subscribe using the links at the left to have them delivered directly to the podcast app on your mobile device. Have questions for our experts? Email podcast@conference-board.org and we'll respond on a future show.

Indications 2.2. Drilling down on oil prices: Back to $40 or on to $100?
OCTOBER 19, 2018. Oil broke $70 a barrel for the first time in four years in January and hasn't receded since. Most experts predict it'll remain between $70 and $85 in the near term. But any sense of stability or consensus is deceiving. A witches' brew of volatile, complicated, and often countervailing global forces has been the real story of oil prices in 2018—and likely the only safe bet for 2019 as well.
Ataman Ozyildirim, Director and Global Research Chair at The Conference Board, breaks down the factors at play with the help of an expert panel. Will a "long, soft fall" of Chinese growth temper global demand? Can US shale overcome refining and distribution bottlenecks to reach more ultimate consumers—at lower prices? And how are oil watchers gaming out the extraordinary constellation of questions swirling around Iran, Venezuela, and now Saudi Arabia?

Indications 2.2 reading list
Indications 2.1. Are we missing the productivity revival?
AUGUST 17, 2018. Welcome to Season 2 of Indications. In this premiere episode, Bart van Ark, Chief Economist of The Conference Board, breaks down the mysteries of productivity in the 2010s: Above all, why has productivity growth slowed to a crawl—down to 1.4% in 2015 and 2016—in the face of accelerating advances in mobile, automation, big data, and the cloud?
With the help of experts from the OECD and the McKinsey Global Institute, Bart dives into the latest data—and past technological transformations—to uncover a surprising answer: While economists and policymakers keep racking their brains to crack the past decade's "productivity paradox", a return to an era of faster productivity growth may already be happening, right before our eyes.

Indications 2.1 Reading List
Indications 8. Defining Innovation
JUNE 9, 2017. At a time of rising global competition, aging work forces, and stagnant productivity, everyone agrees on the key to staying ahead: Innovation. Each year, more CEOs sell tech-driven efficiencies to their shareholders, more marketers pitch their products as revolutionary to consumers, and more journalists and consultants produce lists of the world's most innovative companies.
The problem? There's no accepted standard for measuring—or even defining—innovation, and "I know it when I see it" no longer cuts it as substitute. On this episode of Indications, economists Ataman Ozyildirim and Janet Hao introduce Future of Innovation, a year-long project they've embarked on with the input of top executives and practitioners. The goal is a flexible framework of signposts that will help companies across industries define innovation for themselves and accurately track their progress over time and against the competition.

Indications 8 Reading List
Indications 7. The American Consumer: Resurgent—And Aging
MAY 11, 2017. American consumers are feeling as upbeat about the state of the economy and their own job prospects as they have at any time since the Great Recession. Will this increased confidence translate into freer spending habits over the next year? Further afield, how are those habits being transformed by the aging of the U.S. population?
On this episode of Indications, Gad Levanon, Chief Economist for North America and Lynn Franco, Director of Indicators and Surveys, discuss the short- and long-term factors driving purchasing behavior. They break down the post-election bounce in our Consumer Confidence Index, then turn to the question posed by our latest demographic research: What industries other than health care will be boosted by a growing 65+ population? Where will new retirement destinations take root? And how do economics account for changing demographics and differences in generational tastes when forecasting future demand for iPhones?

Indications 7 Reading List
Indications 6. Why isn't digitization driving faster growth?
MARCH 23, 2017. Two experts attack a central paradox of today's global economy: Why has accelerating digital innovation yet to put growth in high gear? Chief Economist Bart van Ark looks to history; since the Industrial Revolution, all new technologies take decades to be fully harnessed by businesses. Do mobile, always-on broadband, and the cloud simply need more time to pay off?
Doug Chia, Executive Director of the Governance Center, presents a more troubling possibility: that American business leaders in the 21st century face a set of short-term incentives—from quarterly earnings targets to high-frequency trading—that is dragging out and actively impeding the usual deployment timeline.
Indications 6 Reading List
Indications 5. Trump, Trade, and Globalization's Discontents
FEBRUARY 3, 2017. Election results around the world in 2016 showed that the expansion of global trade in recent decades—till recently accepted as an unalloyed good—has also sparked a shocking growth in economic discontent. As Donald Trump begins his term, businesses are grappling with the potential changes to U.S. trade policy and potential disruptions to their supply chains.
Senior European Economist Ilaria Masseli, China Center Associate Director Ethan Cramer-Flood, and U.S. Senior Economist Brian Schaitkin examine how globalization has left some workers feeling neglected and whether a reversal of these trends would help them. Then they dive into the personalities and policies of the new administration and how businesses and governments in Europe and China may react.
Indications 5 Reading List
MEMBERS: Want the complete story from our Global Outlook and beyond? Working for a member of The Conference Board opens up our exclusive portfolio of research, events, and webcasts. Click here to find out if your company's a member.


Indications 4. Sustainability in 2017: Maintained momentum or resurgent backlash?
JANUARY 17, 2017. By any measure, 2016 will be remembered as a turning point for global sustainability. But a turn in what direction? The answer seemed clear in April, when the Paris Climate Conference ended with an agreement that, for the first time, committed all the world's industrial powers to substantial carbon limitations. Alongside this landmark, the year saw a rising critical mass of companies in all sectors awakening to the business case—that a commitment to sustainability can confer serious competitive advantages, not just extra costs or hurdles.
By the end of 2016, however, the future of this momentum seemed very much in doubt. Donald Trump's election in the U.S.—and the rise of populist politics worldwide—has brought skepticism of regulation and climate science back into the center of power. How are sustainability experts picturing this change for 2017 and beyond? Is a major backlash in the cards? Or have commercial and societal incentives already shifted irrevocably towards sustainable practices and growth?
Senior Economist Brian Schaitkin hosts a discussion touching on energy policy, renewable investment, the role of cities, and more with Thomas Singer, Principal Researcher in Corporate Leadership, and Wim Overmeer, Senior Fellow, Energy and Scenario Planning.
Indications 4 Reading List
MEMBERS: Want the complete story from The Conference Board Sustainability Center? Working for a member of The Conference Board opens up our exclusive portfolio of research, events, and webcasts. Click here to find out if your company's a member.


Indications 3.5 Three things that changed business in 2016: View from Europe
DECEMBER 24, 2016. In this special episode, we bring you the view from in Europe. Recorded for our members in December 14 in Brussels and New York, Economists Ilaria Maselli, Ataman Ozyildirim, and Klass de Vries&nbspexamine the economic outlook for the eurozone, then turn to three seismic events and issues that fundamentally shifted economic expectations and the business environment in 2016. Brexit was a huge disruptor, but not the only one.
In the New Year, Indications will return on a biweekly production schedule. Subscribe in iTunes or your podcatcher of choice, to get our latest analysis on the Trump transition, immigration and labor markets, energy and sustainability, and more.


Indications 3. The forces that forged Trump's Rust Belt sweep
NOVEMBER 16, 2016. In the end, the wall that mattered most in the U.S. election wasn't the one Donald Trump promised to build on the Mexican border, but the one he demolished around the Great Lakes. For a generation, a Blue Wall of working-class voters gave Democrats an edge in Pennsylvania, Michigan, and Wisconsin, and competitive in Ohio and Iowa. This year, demographics and the long-term decline of manufacturing finally caught up to presidential politics.
In a discussion spanning across trade, automation, training, and the pride of work, economists Ken Goldstein, Brian Schaitkin, and Diane Lim zero in on the areas where Trump dramatically over-performed pre-election polls. What does his success in these regions reveal about longer-term changes in jobs and markets? How does it fit in with the national picture? More importantly, is there anything Trump's administration—and the private sector—can do to really address the anxieties and dislocation that fueled his victory?


Indications 2.5. Post-election Special: Window on Trump's America
NOVEMBER 10, 2016. Like much of the world steeped in data, markets, and forecasting, The Conference Board is still unpacking the lessons and effects of Donald Trump's remarkable upset victory in the U.S. Presidential election. More importantly, our global team of economists and experts is turning to the road ahead, just as we did after this year's shock Brexit result, which—as President-Elect Trump predicted—so presaged the events of last week.In this special episode of Indications, we bring you a conversation recorded for our members the morning of November 10, some 36 hours after election night. It touches on trade, taxes, the federal budget, and reaction from Europe, China, and beyond.
FEATURING: Economists Bart van Ark, Ilaria Maselli, & Brian Schaitkin; Steve Odland, CEO of the Committee for Economic Development; Ethan Cramer-Flood, Associate Director, China and Asia Programs; Juergen Tinggren, Former director, Schindler Management Ltd.
Indications 2. Declining business investment, rise of executive coaching
NOVEMBER 4, 2016. With unemployment remaining low, and wages finally on the upswing, 2016 has been a good year for American consumers. Why then has U.S. growth been relatively weak? In a word, investment. Over the past two years, businesses have been reluctant to put funds into new equipment and structures that could enhance productivity. Economists Gad Levanon and Brian Schaitkin discuss whether firms' reticence to invest is based on election-related anxiety or reflects a deeper pessimism about future business conditions. They are then joined by human capital researcher Sherlin Nair to examine a form of investment not captured in government statistics—executive coaching. Does increasing the funds and devoted to leadership development bolster, parallel, or distract from more tangible investments?
Indications 2 Reading List
MEMBERS: Want the complete story on executive coaching or the global earnings outlook? Working for a member of The Conference Board opens up our exclusive portfolio of research, events, and webcasts. Click here to find out if your company's a member.
Indications 1.5. Election Special: Window on America
OCTOBER 31, 2016. "Unprecedented" may be the most overused headline of this election season, but you can add one more example to the list: Never before has The Conference Board heard so much concern and trepidation from our member companies across the world ahead of a US Presidential election. In this special episode of indications, we present Window on America—a webcast for our membership recorded October 12.
FEATURING: Economists Bart van Ark & Ilaria Maselli; Steve Odland, CEO of the Committee for Economic Development; Juergen Tinggren
Indications 1. Election 2016 facts, forecasts, & fantasies
OCTOBER 24, 2016. On the heels of the debates, our panel of economists unpacks the economic arguments used by the Trump and Clinton campaigns. Is the post-2008 recovery historically pathetic, the basis for renewed prosperity, or perhaps both? Why do American workers remain so pessimistic despite an accelerating seller's market in jobs? And is the age of record corporate profits and expanding income inequality over? Plus, the latest readings from our Consumer Confidence Index.
FEATURING: Economists Lynn Franco, Gad Levanon, Ken Goldstein, & Brian Schaitkin