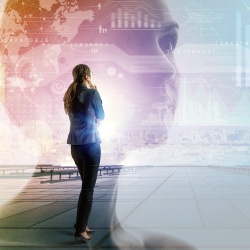 Effective Development Strategies for Increasing Women in Leadership
Advancing the leadership of women and other underrepresented groups is a business imperative. What isn't often discussed is the courage required of numerous stakeholders to affect this change – to disrupt "the way we've done things around here," to intervene in the face of pressure and pushback, and to shine a light on the disparity in big and small ways.
Join us for this webcast series, brought to you in partnership with Korn Ferry, which explores our latest research findings and what leading companies are doing to increase the representation of women within all levels of leadership.
Pivotal Points for Developing Women Leaders

February 28, 2019 at | 9:00AM ET | 6:00AM PT | 3:00PM CET

Join us for this webcast as we highlight findings from a joint study from The Conference Board and Korn Ferry that uncovers pivotal points and key practices to supercharge the advancement of women across all leadership levels.

HRCI, SHRM, and CPE credit available


Watch On Demand

What You Need to Know to Help Women Succeed Part 1

March 20, 2019 | 9:00AM ET | 6:00AM ET | 2:00PM CET

Join The Conference Board and Korn Ferry in discussing the findings of their recent report examining the stalled engine of change for advancing women in leadership and learn about what companies are doing to accelerate progress.

HRCI, SHRM, and CPE credit available


Watch On-Demand

What You Need to Know to Help Women Succeed Part 2

April 25, 2019 9:00AM ET | 6:00AM PT | 2:00PM CET

Join experts from The Conference Board, Korn Ferry, and McCormick and Company to take a deeper dive into impactful actions/practices implemented by organizations that are successfully moving the needle on women in leadership.

HRCI, SHRM, and CPE credit available

Watch On-Demand
Moderators
Speakers
Wendy Beecham
Associate Client Partner
Korn Ferry
Read Bio

Beatrice Grech-Cumbo
Senior Client Partner
Korn Ferry
Read Bio

Mary Lee Hannell
Chief Human Capital Officer
The Port Authority of New York and New Jersey
Read Bio

Lisa Manzone
Senior Vice President, Human Relations
McCormick
Read Bio

Debra Torres
Chief Ethics and Compliance Officer
The Port Authority of New York & New Jersey
Read Bio

Lillian D. Valenti
Chief Procurement and Contracting Officer
The Port Authority of New York and New Jersey
Read Bio