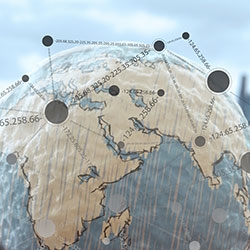 Global Leadership Forecast 2018
Global Leadership Forecast 2018 – a three-way partnership including Development Dimensions International (DDI), The Conference Board, and Ernst & Young (EY) – provides practical, evidence-based recommendations for mission-critical business issues
The Global Leadership Forecast is the largest research study of its kind, examining the state and business impact of leadership development practices and leader experiences within and across organizations in major industries and economies around the globe. More than 25,000 global leaders and 2,000 organizations contributed to this new research study. The forecast focuses on current and emerging topics such as leadership strategy, raising leader engagement, making the most of high-potential leaders, building a coaching culture, retention and role of purpose.
Regional Reports
Upcoming Live Webcasts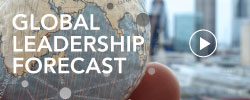 Tap into top expertise without leaving your desk.
In these hour-long video forums, we dig deep into critical business issues and share solutions.
Global Leadership Forecast | On Demand


October 09, 2018 10:00 AM ET [10:00] (New York), 02:00 PM UTC [14:00]




Join this interactive webcast on the topic of Leadership Strategy: The Forgotten Foundation of Business Planning, featuring Amy Lui Abel from The Conference Board and Joe Dettmann from EY. HRCI, SHRM, and CPE credit available
Global Leadership Forecast


November 13, 2018 10:00 AM ET [10:00] (New York), 03:00 PM UTC [15:00]




Join this interactive webcast on the topic of Building A Coaching Culture & Mentoring For Impact, featuring Amy Lui Abel from The Conference Board and Stephanie Neal from DDI. HRCI, SHRM, CPE, and CCE credit available
Global Leadership Forecast


December 11, 2018 10:00 AM ET [10:00] (New York), 03:00 PM UTC [15:00]




Join this interactive webcast on the topic of Rethinking Leadership Potential: Making the Most of High-Potential Talent, featuring Rebecca Ray from the Conference Board and Evan Sinar from DDI. HRCI, SHRM, and CPE credit available