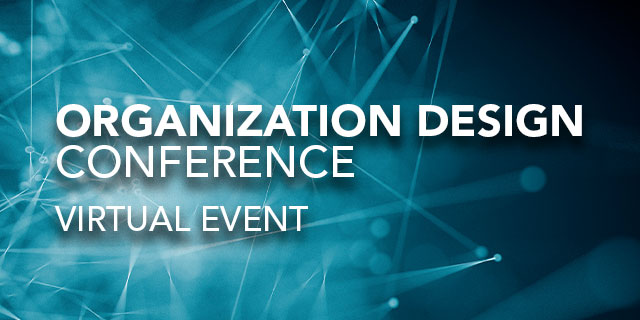 NOVEMBER 17 - 18, 2020
VIRTUAL MEETING
November 16, 2020
Opportunity in Crisis: Tools and Approaches for Designing Organizations Virtually to Survive & Differentiate
Creating Differentiation by Design®
Given the unprecedented changes in 2020, organizations around the globe, are pivoting and re-inventing themselves to survive and thrive. The need to design and enact agile organizations has become essential. The fundamentals of Organization Design such as a holistic approach, strategic differentiation, and a strong partnership between executives and their change partners, the stage for transformational change even in times of uncertainty or crisis. This workshop will showcase some of the foundational tools that are used by companies of all sizes to lead organization transformation through intentional organization choices aligned to strategy. The interactive workshop will highlight ways that executives and HR practitioners can effectively partner to identify both the hard and soft design facets needed to enable true organizational transformation. Participants will:
Learn select strategic organization design tools that powerfully connect organization choices to strategy
View examples of how organizations have achieved sustainable differentiation and winning in the marketplace
Explore techniques for building effective partnerships between leaders and their change partners
Discover organization alignment building blocks that will help increase the likelihood of successful transformation
Featured Speakers Include:
Reed Deshler, Author of Mastering the Cube: Overcoming Stumbling Blocks and Building an Organization that Works, and Principal, AlignOrg Solutions
Ken Thompson, Principal, AlignOrg Solutions
Pre-Conference Workshop Agenda
(all times ET)
11:30 – 11:45 am
Introductions and Welcome
11:45 am – 12:30 pm
Session Set-up and Overview
Key Design Questions Organizations are Trying to Answer
Introduce Approach and Framework for Organization
12:30 – 1:00 pm
Keys to Facilitating Virtual Design Sessions
1:00 – 1:20 pm Break
1:20 – 2:15 pm
Introduce Select Organization Design Tools
2:15 – 2:45 pm
Leadership Implications for Driving Organization Transformation
2:45 – 3:15 pm
Review Case Studies and Practitioner Round Table
3:15 – 3:30pm
Three Things to Do Now

1. Download the Agenda

To learn more about sessions and speakers, download the latest agenda.
2. Register

This event is free as part of your Organization Design Conference registration. Register now to join us for the live virtual event and to receive a link to watch later on-demand.
3. Click below to learn more about our pre-conference sponsor: