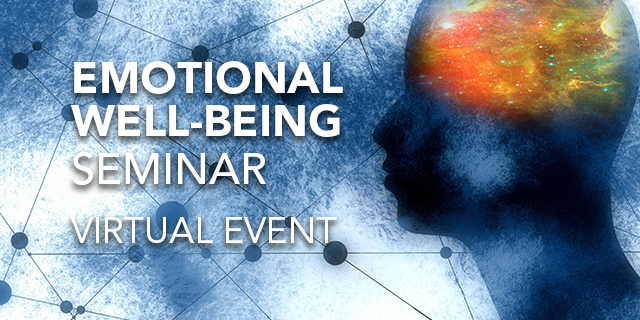 December 15, 2020
Emotional Well-Being, including mental health and resilience, was an important and growing area of concern prior to the COVID-19 pandemic. The current crisis and uncertainty have magnified needs and increased focus on the issues.
This event will explore how addressing emotional well-being is being addressed in many ways; increasingly it is part of a broader, more holistic approach to employee well-being, but also as part of culture and engagement. This is a topic that must be viewed as inextricably intertwined with concerns about physical safety, financial stress, workplace issues, and general uncertainty.
The causes of stress are many, complex, and not possible to control. The Emotional Well-Being Forum will provide insight and experience to leaders as they consider various approaches to understand and address the expanding issues. We will explore practical measures that are being implemented now and approached to build a stronger future. One path to pursue is a focus on employee resilience. This can be a more rewarding and realistic strategy than attempting to eliminate the causes of stress.
This conference is designed especially for Vice Presidents, Directors, and Managers of:
Human Resources
Total Rewards - Compensation and Benefits
Health and Wellness
Benefits
Retirement
Employee Engagement
Things to do Now
Register: This event is complimentary for members ($295 for non-members). Register now to join us for the live virtual event and to receive a link to watch later on-demand.
Get Involved:
Speaking Opportunites: lisa.hunter@conferenceboard.org
Sponsorship Opportunites: michael.felden@conferenceboard.org
Marketing Partnerships: melissa.mianulli@conferenceboard.org
Group Registrations: ulei.kou@conferenceboard.org