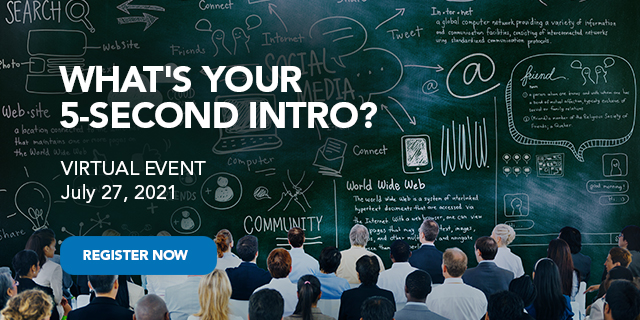 JULY 27, 2021
VIRTUAL MEETING
July 27, 2021
July 27, 2021 - 12:00 - 2:00pm ET
About this Professional Development Event
What is the state of the industry? What changes is it undergoing, what challenges are its leaders facing, and what trends are coming to the forefront?
This workshop will help you lift the storytelling fog that creates cloudy introductions that lack power and interest. In a group setting, we'll get to the core of what inspires you. In the process, you will discover you have a unique story to tell that can become a literal hook for your emerging narrative.
Key takeaways include:
Others are authoring your story right now and how you can control the script
Why "truth" is the essential building block of your script
How your past will help you glimpse your future
How to define your pitch in one sentence
How to create a pitch that attracts, compels, and sells
How to create an indelible connection with your customer in under 10 seconds
Price:
Members $195
Non-members $295
Speaker:
Greg Monaco is committed to helping people and companies build indelible brands. He works with authors, entrepreneurs, executives, and recording artists to build their brand presence. He has also helped renowned organizations like the Girl Scouts of the USA, American Express, BASF, and others build brand magnetism.
Greg is a contributing author for Entrepreneur.com, Advertising Age, and Human Resources Executive and I tour the world conducting branding and storytelling workshops. Previously, he was a Founding Partner of Monaco Lange, an independent global brand consultancy, and was a Senior Copywriter at Ogilvy helping tell stories for clients like Bulgari, AT&T Wireless, SAP, and IBM.
Beyond brand building, Greg has also enjoyed many pursuits: architectural photographer, professional soccer player, and filmmaker. Greg lives in Connecticut with his partner Jill and his three children: Aidan, Cameron and Kylie.