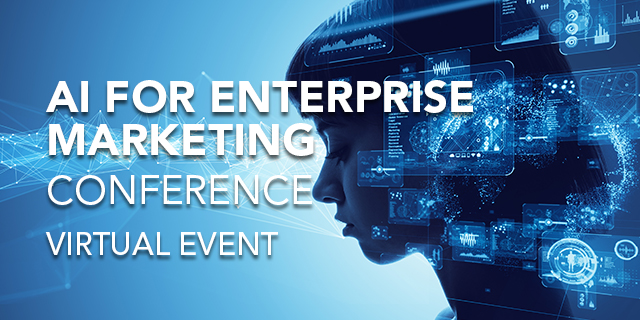 OCTOBER 15, 2020
VIRTUAL MEETING
October 15, 2020
About the Seminar
Artificial Intelligence is the next technological revolution. The last revolution, the Internet, has dramatically reduced the cost of entry in industry after industry, allowing smaller, faster rivals to take down corporate giants. The AI revolution is different. AI rewards scale--the kind of scale that large companies have. AI rewards data--the Big Data of big companies. Big company marketers will learn how AI is changing critical areas of marketing:
Market research
Search
Customer experience
Content marketing
Personalization
Attendees will learn what AI can do to drive real business results along with simple first steps they can take to start realizing those results. The particular problems and solutions for large companies will be highlighted.
After attending this conference, you will be able to:
Identify the trends in NaturalLanguage Processing most applicable to marketing
Choose the most appropriate technique for applying AI to search marketing campaigns
Learn how to personalize your customer experience without using personal data
Who Should Attend?
Chief Experience, Marketing, Customer, Innovation and Technology Officers
Heads, VPs, Directors & Managers of:

CX
Marketing
Digital Experience
Brand/Customer Loyalty
Digital Marketing
Consumer Intelligence
Customer Analytics and Insights
Get Involved!
Does this event align with your company's goals and strategies?
For speaking opportunities, contact: mike.moran@conferenceboard.org
For sponsorship, contact: michael.felden@conferenceboard.org
For marketing partnerships, contact: melissa.mianulli@conferenceboard.org
David Ferrucci, Director of Applied AI, Bridgewater Associates
Deborah Johnson, Director Website and Online Services, American Society for Mechanical Engineering
Jeff King, Senior Manager of Data Science, Thermo Fisher Scientific
Jeff Klag, Market Data Analytics Specialist, Deere & Company
Eric Obenzinger, Global Client Partner - Travel, Google
Sean O'Hanlon, Director of Digital Customer Experience, Deere and Company
Katie Paine, Founder, Paine Publishing
Tyler Reardon, SEO Manager, Chewy.com
Steve Zakur, CEO, SoloSegment