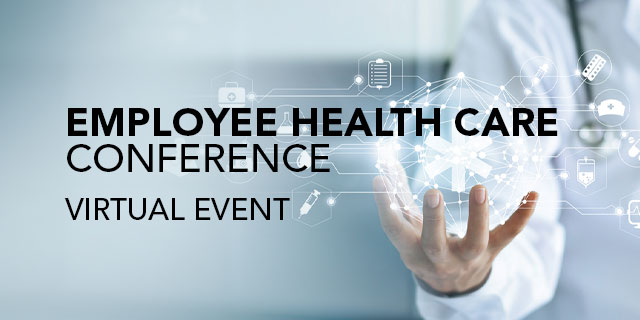 JUNE 24 - JULY 02, 2020
VIRTUAL MEETING,,
June 24 - July 02, 2020
About the Virtual Conference
How do employers develop and deliver benefits that meet employee needs for both today and tomorrow? Join us to learn how your peers are drawing on emergent science and technology to implement practical and effective strategies and programs that focus on the employee.
There are significant benefits we are able to offer you in this format, many of which can't be accomplished at a 2-day face-to-face event.
Benefits include:
Your registration gives you access to all presentations -- you will be able to participate in over 50 employer case study presentations. Ordinarily, you'd only be able to attend 12
Sessions will be grouped by topic, so you'll easily find content that is of interest to you including presentation decks, collateral, white papers, research, social media, blog posts, etc.
On-demand access to presentations and resources will be available until the end of August
You can access information from sponsors in our portal. That includes details on their products / services, download collateral, view demos, schedule meetings, etc. If you'd like to interact with sponsors in real time, each will have "live" exhibit hours
As always, our conference app will enable you to follow the event, post comments, connect with other attendees / vendors and participate in games for prizes
You'll earn CEU credits
Presentations will run (east coast time) at:
11 – 11:50 am
1 – 1:50 pm
3 – 3:50 pm
Each will be followed by a 40-minute live exhibition. There will a choice between one and three sessions during each time slot. Of the 50+ sessions planned you will have the opportunity to attend up to 21 sessions live; you will be able to access all of the sessions on-demand.

Presentations and exhibitions will be accessible on our site until the end of August for your convenience. Your registration grants you access to all sessions and exhibitions, including access to presentation decks, collateral, white papers and research, and the ability to interact with conference sponsors for more information on their products and services, view demos and collect information to enhance the benefits you offer to your employees. You'll earn continuing education credits for each session you attend.

The schedule is being developed and specific dates and times for sessions will be updated shortly. In the meantime, we've grouped the presentations by topic area.
Topic Areas to be Covered Include:
Chronic Condition Management
Data Analytics
Employee Wellbeing
Engagement
Expert Medical Guidance
Family Benefits
Financial Wellness
Health Insurance / Health Plans
Mental Health
Musculoskeletal Care
Navigation
Population Health
Prescription Drug Benefits / Medication Management
Price and Quality Transparency
Primary Care
Sleep Care
Special Needs in the Workplace
Telemedicine / Virtual Care
Tobacco Cessation
Weight Loss
Who Should Attend
This conference is designed exclusively for Heads, VPs, Directors, and Managers of:
HR
Benefits
Compensation
Wellness
Total Rewards
Get Involved!
If you would like to get involved in this year's conference, please contact us.
Joanne Abate, AVP Global Benefits and Insurance Programs, Unum
Katie Allen, Senior Vice President of Marketing, Rx Savings Solutions
Joanne Armstrong, Clinical Head of Women's Health and Genomics, Senior Director of Medical Policy and Operations, Aetna, a CVS Health Company
Gen Barron, Sr. Manager of Global Well-Being, Medtronic
Gina Bartasi, Founder & CEO, Kindbody
Verna Bartels, Data Inquiry Specialist, Nielson
Jeffrey Bergin, Benefits Consultant, Total Rewards, SAP America, Inc.
Prateek Bhatia, Assistant Vice President, Health Plans, University of Southern California
Will Brockman, Chief Revenue Officer, Healthcare Bluebook
Lauren Casterson, Global Benefits Lead, Palantir Technologies
Jane Cheshire Gilbert, Director, Retiree Health Care, State of Kentucky Teacher's Retirement System
Tim Church, Chief Medical Officer, Naturally Slim
Maayan Cohen, CEO, Hello Heart
Sara Correnti, Manager of Health and Wellness, Concordia Plan Services
Veronica Cossette, Director, Benefits, Lennox International
Bryan Curran, Account Director, HDMS
David Dickey, Consultant Relations Lead, Bind
Michael DiSimone, Chief Executive Officer and President, PayFlex
Lynda Donovan, Director of Employee Benefits, Huntsville Hospital Health System
Samanntha DuBridge, Vice President, Global Benefits and Employee Mobility, Hewlett Packard Enterprise
Matthew Duncan, Vice President, ADURO
Laronne Faulkner, Program Manager, University of California Office of the President
Amelia Gilbert, Director of Partnerships, Lyra Health
Julia Givens, Benefits Manager, Field, Wayfair
Steven Goldberg, VP, Medical Affairs, Population Health, and Chief Health Officer, Health & Wellness, Quest Diagnostics
Grant Gordon, CEO and Co-Founder, Artemis Health
Greta Green-Gentile, Sr. Manager, Benefits, FUJIFILM Holdings America Corporation
Matthew Harmon, VP, Compensation Benefits and HR Systems, AutoZone
Randy Hawkins, MD, FACHE, Chief Medical Officer, Health Analytics, ConsumerMedical
Julia Hoffman, VP of Behavioral Health Strategy, Livongo
Marianne Holt, Director of Benefits Innovation, Collective Health
Amy Johnson, Director, U.S. Benefits, Medtronic
Amy Johnson, Director, U.S. Benefits, Medtronic
Gabrielle Jung, Director of Operations and Financial Management, University of California Office of the President
James Klein, President, American Benefits Council
MaryBeth Kramer, Global Benefits Director, Box
Jeff Krauss, Chief Medical Officer, Hinge Health
Rich Krutsch, Vice President, People Services, ArcBest
Jonna Kurucz, VP, Clinical Client Development, Anthem Inc.
Ron Lafrican, Director, Benefits & Compensation, Cottage Health
Greg Landmark, SVP of Compensation & Benefits, Travelers
Mandy Lau, Director, Global Benefits, Adobe Inc.
Suzanne Ledesma, Director, America's Benefits, PayPal
Arthur Leibowitz, Founder, President Emeritus and Chief Medical Officer, Health Advocate
Julie Lyons, Manager, Wellness, Kohler Co.
CJ Mark, Chief Commercial Officer, Vida
Dana Maul, Growth Leader, IBM Watson Health
Scott Megill, President and CEO, Coriell Life Sciences
Kristen Moody, Vice President, Employer Client Management, Teladoc Health
Jennifer Moore, Senior Benefits Analyst, Lowe's Companies, Inc.
Chris Mosunic, Chief Clinical Officer, Vida
Stephen Neeleman, Founder/Vice Chair, HealthEquity
Doug Nemecek, Medical Managing Director, Cigna
Derek Newell, SVP Commercial, Virta Health
Alex Nguyen, VP of Products & Solutions, WebMD Health Services
Maeve O'Meara, CEO, Castlight Health
Victoria Pavlov, Vice President, Global Benefits, Nielsen
Sarah Pedersen, VP Customer Success, Big Health
Sarah Pedersen, VP Customer Success, Big Health
Jyoti Peters, Leader, Business Development, IBM Watson Health
Suroor Raheemullah, Vice President, Human Resources, Dover Corporation
Shaun Rahimi, EO, Enso
Emily Rich, Patient, Progyny Patient
Andrea Rosler, Vice President, Human Resources, Huntsville Hospital Health System
Vito Rubino, AVP of Benefits, MassMutual
Jason Russell, Head of North America Total Rewards, SAP
Erin Sarin, Senior Manager, Corporate Benefits and Well-Being Strategy, Mitre
Caroline Savello, VP, Commercial, Color
Laura Schneider, Chief Human Resources Officer, Core and Main
Ian Schwartz, Patient, Progyny Patient
Reena Scoblionko, VP, People, GoodRx
Shannon Skaggs, President, Quantum Health
Todd Smasal, Vice President of Total Rewards, Northwestern Mutual
Elvia Soberanes-Iniguez, Benefits Program Manager, Cisco Systems, Inc.
Thomas Sondergeld, Former VP HRIS, Global Benefits & Mobility, Walgreens Boots Alliance, Inc.
Ann Speltz, Senior Benefits Consultant, Capital Group
Susan Sproat, Executive Director, HR - Benefits, University of Pennsylvania
Nupur Srivastava, SVP Product & Marketing, Grand Rounds Inc.
Julie Stadlbauer, SVP, Progyny
Josh Stevens, President, DayTwo
Tammy Sun, CEO, Carrot Fertility
Matthew Vlieger, Manager, Finance and Analytics, Liberty Mutual Insurance
Monique Wantland, Wellness Program Manager, U-Haul
Lucinda Ward, Division Vice President, Western & South West, VSP Vision Care
Julee Weller, Global Benefits Design Strategist, Intel Corporation
Charles White, Vice President, Compensation & Benefits, HD Supply
Ross Wilken, Executive Director, Benefits, CME Group
Heather Wilson, GAM Health & Wellness Program Office Manager, Intel Corporation
Heather Wilson, GAM Health & Wellness Program Office Manager, Intel Corporation
Lilly Wyttenbach, Global Wellness Manager, Managing Director, JPMorgan Chase
Riley Zahm, Livongo Member, Weight Management