Global Economic Outlook - Home
MAY 2018
Click on the chart to browse forecasts by country and region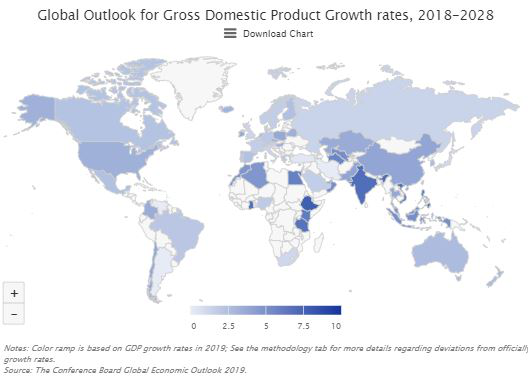 Will trade disruptions derail the global growth momentum?
View the June 2018 press release here.
Trade policy risk has now clearly overtaken other financial and economic risks as the biggest threat to the global economy's current growth momentum. Nevertheless, confidence among consumers and businesses remains strong, and there are no obvious signs of elevated recession risk. A possible escalation in tit-for-tat tariffs or quotas is unlikely to push the global economy into reverse immediately. However, uncertainty could exacerbate a slowdown in global growth if businesses hold off on investment and hiring. Policy risks are therefore more likely to bring recession risks forward. This, combined with the anticipated maturing of the business cycle especially in mature economies, has led us to revise global growth for this year to 3.2 percent, slightly down from our February projection of 3.3 percent.
The latest issue of StraightTalk® analyses the short and medium-term outlook for the global economy and discusses possible effects of potential trade disruptions. Furthermore, it introduces the new global consumer confidence index by The Conference Board.
Click here for timely analysis on trade and global value chains.
For our members
To explore our full portfolio of related products, visit our member page.
To explore the Global Economic Outlook data, use the online data tool (including an option to download the data in excel format) available here.
Are you interested in getting in touch with our researchers about this model? Do you need someone to review your own growth model? If you would like to get in touch with us, please send an email to ted.geo@conference-board.org.
Publications
July 2018

March 2018

November 2017
Next update
The next quarterly update of The Conference Board's Global Economic Outlook is scheduled for November 13, 2018.