Global Economic Outlook 2017 - Home
Annual report focusing on the opportunities and risks for business growth in different parts of the world in the short-term and the medium-to-long-term.
FEBRUARY 2017
---
Click on the Chart to Browse Forecasts by Country and Region.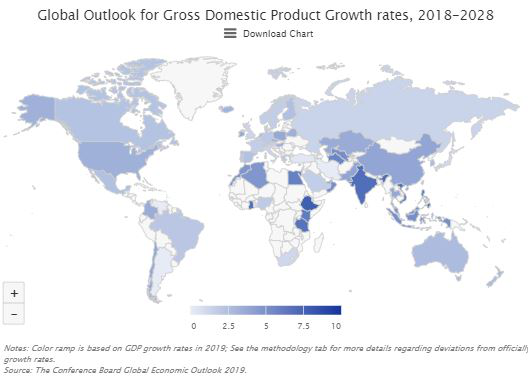 Is Uncertainty Really Holding Global Growth Back? Not for now!
The world has entered a period of greater political uncertainty. The impact on global economic growth and business performance, however, has been mixed so far. The U.S. economy will likely see a modest upside from stronger business confidence and possibly some tax relief later in 2017, but this is not the only possible scenario in the outlook. Europe and Japan are also experiencing, somewhat surprisingly, stronger internal growth dynamics. In contrast, uncertainties of different kinds are weighing down on emerging markets' growth prospects especially in India, Mexico, Turkey and Saudi Arabia.
The Conference Board Global Economic Outlook projects 2.9 percent global growth in 2017– which is a notch up from earlier projections. For the medium term there are no signs as yet that policy changes will raise the trend for the next five or ten years. While business needs to stay focused on strengthening qualitative growth factors, such as technology, innovation, and skills, possible disruptive forces from trade and immigration policies create substantial downside risk around the medium-term growth outlook.
To explore our full portfolio of related products, visit our member page.
Chief Economists Statement on the Impact of US Elections on the Global Outlook
The Conference Board Knowledge Series ® Webcast – China: What Will the Year of the "Fire Rooster" Bring?
The Conference Board Special Webcast – Window on America: Post-Inauguration Analysis
Related material (members only)
February 2017
Strategic overview
StraightTalk® Is Uncertainty Really Holding Global Growth Back? Not for now!
Country Infographic: Mexico
Regional Reports, November 2016
Next update
The next update of The Conference Board's Global Economic Outlook is scheduled for May 2017.