Global Economic Outlook 2017 - Home
Annual report with quarterly updates focusing on the opportunities and risks for business growth in different parts of the world in the short-term and the medium-to-long-term.
MAY 2017
Click on the chart to browse forecasts by country and region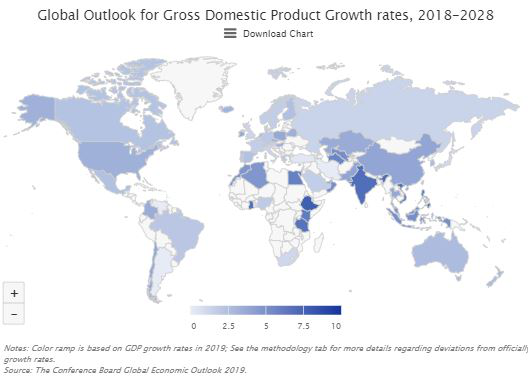 Can the cyclical upswing put global growth back on track?
The recent modest strengthening of the global economy is a welcome diversion from the drumbeat of continued negative expectations for slowing global growth over the next decade. Our newly released Global Business Cycle index illustrates the significance of the cyclical upswing underway, especially in emerging markets. At the same time our latest projections for productivity growth in 2017 show an improvement as well. The cyclical upswing and the productivity revival will raise global growth to 2.9 percent in 2017 compared to the 2.5 percent in 2016. This opens the door for businesses to catch up on their own reinvention and digital transformation that will strengthen their growth base and weather longer-term structural headwinds which have not gone away.
Related material (members only)
To explore our full portfolio of related products, visit our member page.
A file with underlying data can be downloaded here.
May 2017
Strategic overview
StraightTalk®

Can the Recent Upswing Put Global Growth Back on Track?
Country infographics for Italy and France coming shortly
February 2017
Strategic overview
StraightTalk® Is Uncertainty Really Holding Global Growth Back? Not for now!
Country Infographic: Mexico
Regional Reports, November 2016
Next update
The next update of The Conference Board's Global Economic Outlook is scheduled for September 2017.