Global Economic Outlook 2016 - Key Findings
NOVEMBER 2015
---
Click on the Chart to Browse Forecasts by Country and Region.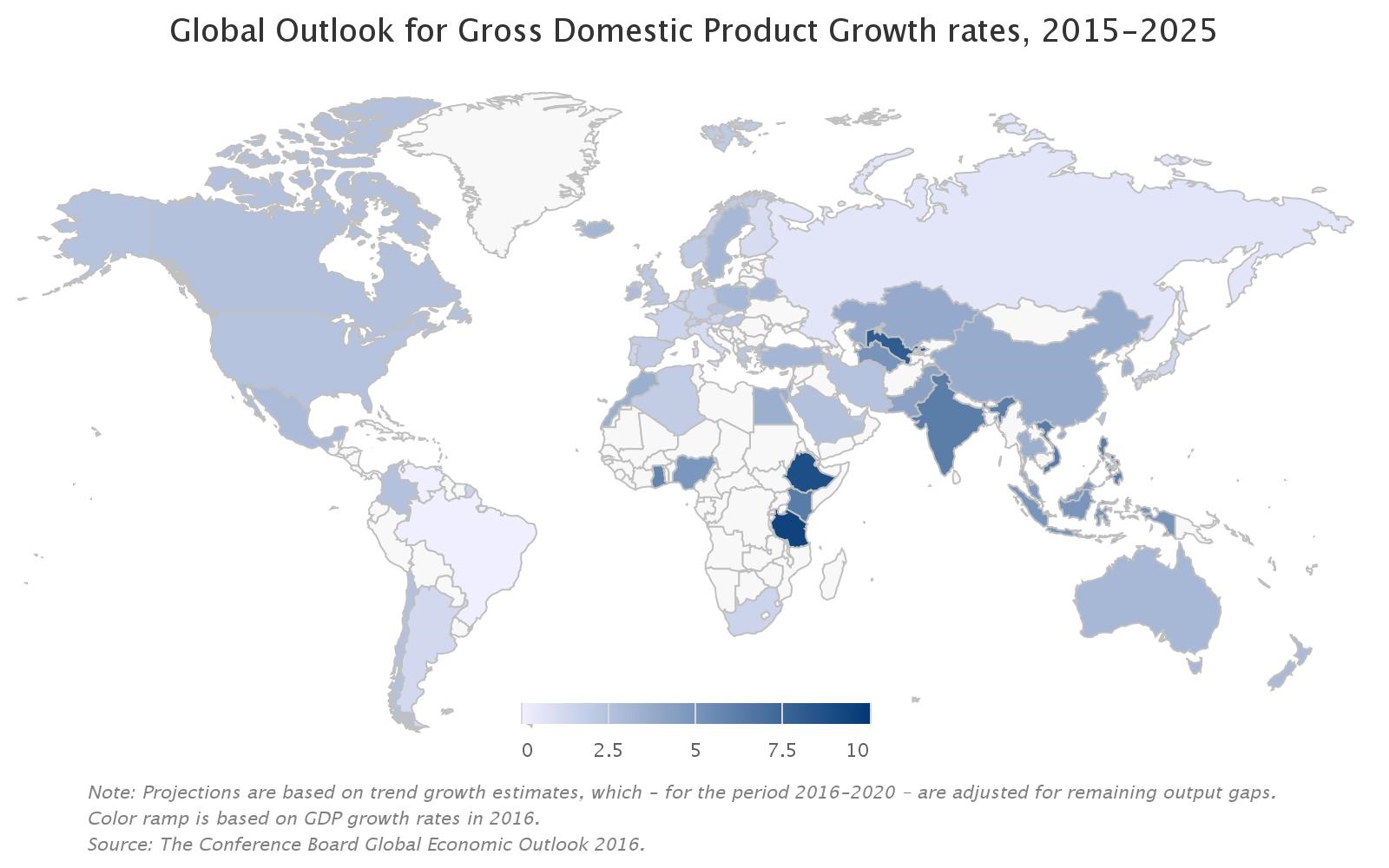 Global economy is stuck in a holding pattern
Gains in mature economies are not enough to offset the losses in emerging markets
In the past few years the global economy has lacked a positive dynamic, exemplified by the uneasy combination of plenty of technological opportunities, slow investment growth—which is exacerbated by lackluster business and consumer confidence—weak productivity, and a range of lingering policy and business challenges. This puts the global economy in a holding pattern in which positive and negative forces offset each other, at least for the immediate future.
This characterization of the global economy is unlikely to change in the next 12 to 24 months. After adjusting our outlook for China's overstated official growth rate, we project a very modest improvement in the growth rate for the global economy to 2.8 percent in 2016, up from 2.5 percent in 2015.
For detailed analysis, visit our member page.
See the full press briefing here.
Business Outlook
US: Bright spot in a weak global economy?
In spite of solid domestic demand, weak global demand, a strong dollar, weak investment and slow productivity growth keep overall GDP growth at 2.4 percent in 2016.

Raising profits will become increasingly difficult for companies as labor costs accelerate, labor productivity growth is modest, and interest rates are rising.
EURO-AREA: Recovery is likely to get better
Domestic demand and exports are the prime drivers of the current moderate recovery.
Investment and productivity is projected to improve in the coming decade, paving the way for somewhat of an acceleration in growth.
ASIA-PACIFIC: Growth is unlikely to improve
Growth rates of China, India and Southeast Asia are unlikely to see significant improvement in 2016 compared to this year.
After adjusting for China's overstated official growth rates, India has already overtaken China as the growth champion of the region.
LATIN AMERICA: Losing the race?
The commodity price decline negatively impacted Latin American economies, and exacerbated the ongoing troubles in the biggest economy in the region, Brazil.
To help lift economic potential and drive productivity growth, more private sector and foreign investment is needed as well as integration of the informal sector into large and modern business practices.
AFRICA: Positive, but uncertain
The prolonged decline in commodity prices, as well as weak growth in Nigeria and South Africa, caused overall growth in 2015 to come in at 3.4 percent – almost 1.5 percent lower than 2014.
The region still has a lot of potential for economic expansion in the medium to long run, mainly due to its demographic dividend, and there is ample room for catch-up, but several political and institutional constraints offer significant uncertainty.
Related material (members only)
Global Economic Outlook 2016: The Global Economy in a Holding Pattern
A full overview of The Conference Board Global Economic Outlook 2016
Business implications by major countries and regions
StraightTalk® Global Economic Outlook 2016: Escaping the Global Economy's Holding Pattern
Global Economic Outlook 2016: How to Support Profits in a Slow Global Economy
Strategic implications for the Chief Financial Officer
Global Economic Outlook 2016: Anticipating Labor Market Tightness at Times of Slow Global Growth
Strategic implications for the Chief Human Resource Officer