Global Economic Outlook 2016 - Key Findings
MAY 2016
---
Click on the Chart to Browse Forecasts by Country and Region.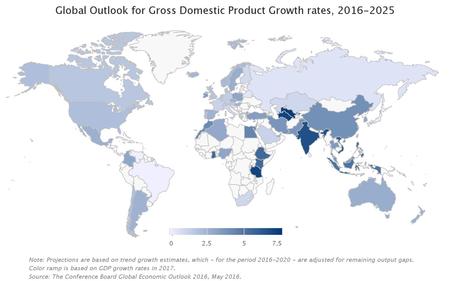 Global growth remains modest for the remainder of 2016 with little upside for 2017
In the past few months the global economy has struggled to get back on its feet from a rough ride at the beginning of the year. The Conference Board outlook for global economic growth remains modest at 2.4 percent in 2016 and at 2.7 percent in 2017. While growth rates between mature and emerging markets have rapidly converged, significant variation between regions remains.
To explore our full portfolio of related products, visit our member page.
Economic & Business Outlook
US: Economic growth remains subdued
Despite a developing rebound for the second half of the year, GDP growth for the United States is adjusted downward to 1.7 percent for 2016, as a result of a weak GDP growth in the 1st quarter
Although employment growth and stronger housing trends support consumer spending, faster wage acceleration is the key to sustain income levels and support consumption as the key driver of growth
Weak investment remains a key source of slow U.S. growth, which is one cause of slow productivity growth
The combination of rising wage levels and low productivity provides an increased threat to profits in the coming quarters
EURO-AREA: Continued modest growth in 2016
Despite increased political risks, the short-term economic environment in Europe is relatively favorable compared to other mature economies.
Domestic demand and improving labor markets continue to drive the current moderate recovery, but the effects of pent-up demand and lower oil prices are waning.
Investment and productivity are projected to somewhat improve, paving the way for some growth acceleration towards the end of the decade.
ASIA-PACIFIC: Growth is unlikely to improve further
Growth rates for China, India and Southeast Asia are unlikely to see significant improvement in 2016 compared to last year.
Growth in China in 2016 is expected to stay the same as in 2015 at 3.8 percent (for more information see this FAQ)
When using The Conference Board's slower growth rates for China – compared to the official estimates –, India looks to have overtaken China role as the growth champion of the region. However, we do not expect any improvement in India's growth performance in 2016 relative to 2015.
LATIN AMERICA: Losing the race?
Rapid falls in oil and commodity prices have negatively impacted Latin American economies, and exacerbated the ongoing troubles in the biggest economy in the region, Brazil.
To help lift economic potential and drive productivity growth, more private sector and foreign investment is needed as well as integration of the informal sector into large and modern business practices.
SUB-SAHARAN AFRICA: Positive, but uncertain
The prolonged decline in commodity prices, as well as weak growth in Nigeria and South Africa, will cause overall growth for the region in 2016 to come in at 2.6 percent, the region's slowest growth performance in two decades.
The region still has a lot of potential for economic expansion in the medium to long run, mainly due to its large demographic dividend and ample room for catch-up. However, several political and institutional constraints offer significant uncertainty.
Related material (members only)
May 2016
StraightTalk® Global Economic Outlook 2016: May 2016 Update
Special report on Sub-Saharan Africa
Climbing a Steeper Hill? Sub-Saharan Africa's recent economic development and business prospects
February 2016
StraightTalk® Global Economic Outlook 2016: February 2016 Update
November 2015
Global Economic Outlook 2016: The Global Economy in a Holding Pattern
A full overview of The Conference Board Global Economic Outlook 2016
Business implications by major countries and regions
StraightTalk® Global Economic Outlook 2016: Escaping the Global Economy's Holding Pattern
Global Economic Outlook 2016: How to Support Profits in a Slow Global Economy
Strategic implications for the Chief Financial Officer
Global Economic Outlook 2016: Anticipating Labor Market Tightness at Times of Slow Global Growth
Strategic implications for the Chief Human Resource Officer
Next update
The next quarterly update of The Conference Board's Global Economic Outlook is scheduled for September 2016, and will be accompanied by a special report on the outlook for profits.