January 18 - 19, 2018
About the Seminar
When it comes to cybersecurity, the nature of the risks and the costs of an ineffective approach become more perilous every year. But more notable than even the scale of the danger is how deeply interconnected the risks, and therefore the responses, must be.
Cybersecurity: Crucial Collaborations will focus on the partnerships without which effective cybersecurity is impossible: across functions within an organization; between companies as vendors and vendors' vendors (and vendors' vendors' vendors) all generate risks; between the private and public sectors; and among governments across the globe. It will provide case studies and actionable insights for leaders in IS, risk, ethics & compliance, privacy, legal, communications, HR, business continuity, and the boardroom to build and maintain these critical cybersecurity collaborations.
Register before December 9th and Save $100!
Who Should Attend
This event is designed for the following senior executives and their mid-level staff. Titles include:
Chief Technology Officers
Chief Information Security Officers
General Counsels & Technology Counsels
Chief Compliance & Ethics Officers
Chief Risk Officers
Chief Privacy Officers
Chief Strategy Officers
Business Continuity & Crisis Management Heads
Corporate Security Officers
Chief PR/External Relations/Investor Relations Officers
Chief Learning Officers
Board Members
Three Things to Do Now
1. Download the Agenda HERE
2. Block off your calendar for the following dates:
SEMINAR: January 18-19, 2018 at The Conference Board.
3. Get Involved!
If you would like to get involved in this year's conference, please contact us.
Earn Credits
Earn up to 14.5 CPE credits
Information Technology
Requirements : Attendees must sign-in each day for full credit. Delivery Method: Group-Live; Program Level: Intermediate, Prerequisites: Bachelor's degree or higher, Advanced Preparation: None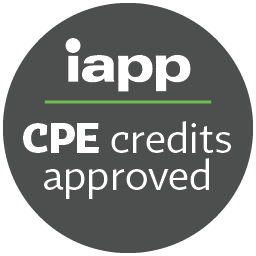 This program is pre-approved for 12 IAPP CPE credits through the International Association of Privacy Professionals