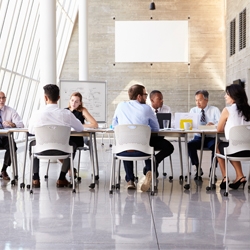 Work Experience Summit
Aligning HR Strategy with the Workspace
24 - 25 October, 2017
The Conference Board
New York, NY
24 - 25 October, 2017
About This Seminar
The workplace is rapidly evolving and the design and building of the workplace has become a powerful tool in influencing productivity, employee satisfaction, innovation and the bottom line. It is now more critical than ever that HR be a partner with Corporate Real Estate and Facilities in order to respond to organization needs and interests that vary within the organization and between departments.
For facilities, real estate and operations managers, it no longer sufficient to focus on servicing the usage of space – who uses it and how much do they need. They now must focus on how the user experiences the space and the user needs. The layout of the workspace across departments may have different requirements, the information technology and data requirements may vary from one department to another. Employee satisfaction and how employees feel about their workspace is a critical concern as well.
For HR, it is not sufficient to focus on people, process and culture, they must also be concerned with the physical environment and how employees use space, communication technology, as well as the complementary amenities needed by employees to remain engaged and productive. Integration and connectivity between and within many departments is now critical to business success. Maintaining silos between departments and groups is no longer an option and continuing to do so more often than not impede organization change, satisfaction and productivity rather than help.
The Work Experience Summit will focus on the many ways in which a collaborative work experience is: changing the design footprint of organizations; changing culture, changing leadership and applying technological advances to create a collaborative ecosystem. Please join the thought leaders and speakers from a cross section of organizations and disciplines in exploring the many ways in which a collaborative experience is leading the way in promoting organization change.
---
Register before September 9th and Save $100!
---
Who Should Attend?

The Work Experience Summit provides a valuable source of information and insight for senior leaders and specialists in:
Real Estate
Talent Management
Workforce Innovation
Workplace Strategy
Organization Design
HR Senior Management
Operations
---
Get Involved!

For Speaking Opportunities, contact benjamin.dyett@conferenceboard.org
For Sponsorship Opportuities, contact michael.felden@conferenceboard.org
For Marketing Partnerships, contact melissa.mianulli@conferenceboard.org
---
Earn up to 12 CPE credits
Personnel/Human Resources
Requirements : Attendees must sign-in each day for full credit. Delivery Method: Group-Live; Program Level: Intermediate, Prerequisites: Bachelor's degree or higher, Advanced Preparation: None