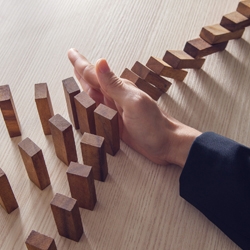 The Risk Management and Resilience Seminar
Leveraging Effective Risk Management for Increased Resilience
07 - 08 June, 2017
The Conference Board
New York, NY
07 - 08 June, 2017
Increasingly, companies are being disrupted by unexpected changes in their business environment. As, new concerns arise daily from political, economic, social media, terrorism, cyber and even weather and health concerns, it is important to have a grasp on how these issues can interrupt your daily operations.This seminar will enable you to learn how to apply best practices in managing your company's ability to anticipate and respond competitively to these challenges.
Participants at this event will learn new and effective ways to improve their company's risk management and create a more resilient company. You will learn how to approach risk through the channels of Enterprise Risk Management (ERM), continuous resilience, crisis management, and incident reporting. We will take a deep-dive into strategic, compliance, operational, financial, reputational and cyber risk to determine the best approach for continuous resilience at your company. Practical exercises will be offered on how to implement best practices, become more resilient, and help improve your company's risk management.
Register Early and SAVE $100 before April 22nd!
---
Who Should Attend
This conference is designed for Heads, Vice Presidents, and Directors of the following business areas:
Risk officers
Ethics & Compliance Officers
Legal
Corporate Security
Business Continuity & Crisis management
Information Security
Auditing
PR/Communications
Corporate responsibility
Sustainability officers
Regulatory officer
Strategy
Human Resources/Talent/Leadership Development Officers
Learning Officers
---
Get involved!
If you would like to get involved in the next conference, please contact:
For Speaking Opportunities, please contact Joseph Feuer at joseph.feuer@conferenceboard.org.
For Sponsorship Opportunities, please contact Michael Felden at michael.felden@conferenceboard.org.