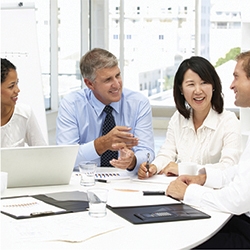 12th Annual Executive Coaching Conference
The Impact of Coaching Conversations on Creating The Future for Leaders, Teams, and Organizations
10 - 11 March, 2015
The Westin New York at Times Square
New York, NY
09 March, 2015 — Pre-Conference Seminar: Your Executive Coaching Program 2.0 - Manage, Measure, Maximize!
(Click to display details below)
10 - 11 March, 2015 — 12th Annual Executive Coaching Conference
(Details are being shown below)
10 - 11 March, 2015
This Conference is approved for up to 14.5 HRCI Credits and up to 14.5 CCE Credits if you attend the pre-conference as well.
CEOs want "strong individual business leadership that is able to drive change, focus on building a performance culture that is not afraid to boldly innovate…"
The Conference Board's 2014 CEO Challenge, "People and Performance – Reconnecting with Customers and Reshaping the Culture of Work"
For the past 12 years we have seen the use of coaching grow from selected use with CEOs and senior leaders, to working with high potentials, leaders in transition, action learning projects, training programs, managers as coaches, early entry programs, and on and on.
The 12th Annual Executive Coaching Conference will show you how coaching can help transform and change your organization as well as build a culture of employee engagement and performance to create the future that will meet the business demands and challenges they constantly encounter!
Benefits of Attending
Discover the power of coaching in helping our leaders, their teams, and their organizations create their future
Learn how to transform the quality of development conversation throughout the organization
Find out how coaching is accelerating leader transitions? Consider the leader being coached and the organization as co-clients
Reap the benefits of hearing about different approaches to team coaching
Practice conversational rituals that strengthen our conversational intelligence
Learn how CEO's view the unique role of coaching in developing a global mindset
Who should Attend:
The Executive Coaching Conference is a valuable source of information and insight forSenior Leaders in Organizations Who Are Responsible for the Coaching Practice in their organizations, and those in:
Talent Management
Leadership Development
Human Resource Management
Training and Learning Development
Organizational Development
Mentoring
Line Professionals looking to implement coaching programs in their departments
How Are We Different?
This one of a kind conference focuses on the needs of Senior Leaders who Lead and Manage Coaching Practices in their organizations to deliver best and next practices in running the business of coaching as well as new coaching methods and approaches to meet emerging business challenges.
Register by 1.23.15 and SAVE $200
For SPEAKING OPPORTUNITIES please contact rene.carew@conference-board.org.
For SPONSORSHIP OPPORTUNITIES, please contact michael.felden@conference-board.org.