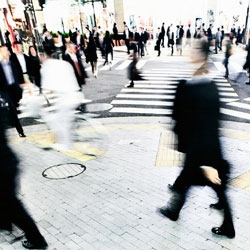 Lessons From The Accidental Boss
Seventy-five percent of leaders have no engagement plan or strategy, even though 90 percent say engagement positively affects success. This one-day workshop will accelerate the payback on your engagement investment.
03 November, 2014
The Conference Board Conference Center
New York, NY
Scheduled Speakers 03 November, 2014
Brian Gareau, Senior Follow- Human Capital
The Conference Board
Founder
Brian Gareau, Inc.
Brian is an experienced professional with a 31 year career in a Fortune 50 corporation where he:
Served in manufacturing, logistics, customer service, PR and HR leadership roles,
Led or was a key team member for enterprise initiatives including Employee Engagement, Corporate Values, Lean Manufacturing and 6 Sigma
Engaged global projects covering nearly 200 locations in 16 countries including multiple start-up operations and change initiatives, and
Co-invented a patent pending Cultural Assessment Process.
As a Senior Fellow, Human Capital at The Conference Board, Brian supports the Human Capital Practice which includes The Conference Board Human Capital Exchange™, research, conferences, webcasts and programs in a broad spectrum of human capital areas.
Brian is also the author of two books: A Slice of Life – A Story About the Benefits of Personal Engagement and 180 Ways to Build Employee Engagement- How to Maximize Your Team's Commitment, Effort, and Loyalty, and has been a featured speaker at The Conference Board, APQC, Corporate Leadership Council, Society of Industrial and Organizational Psychology (SIOP), CUE, , AGG1, CONEXPO, SHRM chapters, The Forum on Workplace Inclusion, and SIGMA's Executive Leadership Conference.
He is the founder of Brian Gareau, Inc. a consulting organization that specializes in strategic, tactical, and practical solutions to engage and sustain high performance.