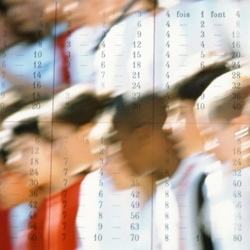 Turning Engagement Data into Action
In this seminar, The Engagement Institute experts will facilitate a comprehensive discussion of actioning practices and pitfalls. Come prepared to share and learn new ways to improve your actioning efforts.
25 June, 2014
The Conference Board Conference Center
New York, NY
Scheduled Speakers 25 June, 2014
Scheduled Speakers 25 June, 2014
Patrick Hyland, Ph.D.
Director of Research and Development
Sirota
Dr. Patrick Hyland has over 10 years' experience in organizational research and consulting. At Sirota, he is engaged in all aspects of survey research with clients such as FedEx Ground, Tiffany, and Shell. His specialty is helping senior leaders, survey professionals, and Human Resource managers identify organization-wide strengths, weaknesses, and opportunities for improvement. Most recently, he helped American Express develop a customized employee engagement survey feedback model.
Dr. Hyland is a frequent presenter at the Society for Industrial & Organizational Psychology (SIOP) Annual Conference. In 2009, he participated in a symposium on Academic and Practitioner Perspectives on Solutions to Work-to-Nonwork Conflict with representatives from Dell, American Express, Baruch, and USF. He also was part of a panel discussion that focused on understanding resistance to change from multiple levels and perspectives. In 2008, he presented at an interactive poster session on "Resistance to Organizational Change: The Impact ofFollowers' Disposition to Change & Supervisors' Leadership Style."
Before joining Sirota, Dr. Hyland worked for Perkins Williamson Associates (PWA), a full service organization development consulting firm in Stamford, CT. At PWA, he managed a variety of organization development projects, including employee opinion surveys, diversity audits, team assessments, and action learning programs. Clients included Fortune 100 companies, local government agencies, and universities.
Prior to PWA, Dr. Hyland worked for IBM on their Worldwide Market Intelligence team. As an Advertising Research Consultant, he conducted research on many IBM ad campaigns, including the "Why Work?" recruiting campaign.
Dr. Hyland has a Ph.D. in Social-Organizational Psychology from Columbia University, where he also serves as an Adjunct Instructor. His doctoral research focused on employees' reactions to organizational change. He received his Bachelor of Arts in English from the University of Pennsylvania.
David A. Dye, Ph.D.
Director, Human Capital
Deloitte Consulting LLP
Dr. David Dye has over 25 years of leadership and management consulting in the Federal Government and commercial sectors, contributing to the improved performance of employees, work teams, and organizations. As a Director in Deloitte's Human Capital Practice, he assists clients in developing and aligning human capital programs to achieve organizational strategy and mission. His areas of expertise span the human capital lifecycle for attracting, developing, and retaining talent. Dr. Dye is the lead executive sponsor for eminence initiatives with the firm, including sponsorships with the Partnership for Public Service's Best Places to Work™ in government and the Senior Executives Association, as well as leading the Federal practice's Leadership Development Community of Practice. Prior to Deloitte, Dr. Dye worked at Booz Allen Hamilton and the US Office of Personnel Management.
David is a Past President of the Personnel Testing Council of Metropolitan Washington (PTC-MW) and the International Personnel Assessment Council (IPAC), in which he led the development of the association's HR certification program. He holds a Top Secret Security clearance and is certified as a human resource professional. (IPMA-HR). Dr. Dye received his Ph.D. from The George Washington University in Industrial and Organizational Psychology. He has presented internationally and has published book chapters and articles in various professional journals, including Public Personnel Management, Personality and Individual Differences, and International Journal of Selection and Assessment
Jennifer Bustamante, Ph.D.
Senior Researcher, Human Capital
The Conference Board
Dr. Jennifer Bustamante is a Senior Researcher within The Conference Board's (TCB) Human Capital Practice. With over a decade of experience in the field of organizational behavior, she leads research efforts in the areas of diversity and inclusion, workforce demographics, employee engagement, leadership development, and talent management. Jennifer also serves as the lead researcher from TCB for the joint partnership with Deloitte Consulting and Sirota to build a research community of practice, The Engagement InstituteTM.
Prior to joining TCB, Jennifer worked as a bilingual change management consultant at Gallup where she partnered with global clients to drive enterprise-wide improvements in both employee and customer engagement. She also served as an Associate Research Director at the Corporate Executive Board (CEB). While at CEB, Jennifer designed and led a variety of quantitative and qualitative studies aimed at both exploring key human resource (HR)challenges and identifying empirically-tested solutions to solve these challenges.
Additionally, Jennifer has taught HR and I/O psychology courses at Barnard, Hunter, and LIM Colleges, and she was recently published in Human Resource Development Quarterly and Human Resource Development International journals.
Jennifer holds both an M.A. and a Ph.D. in Social-Organizational Psychology from Columbia University, where she received an academic distinction for her dissertation research exploring the roles of demographic diversity, social capital, and diversity climate on organizational outcomes. She also received a dual bachelor's degree in Psychology and Spanish Literature from Dartmouth College.