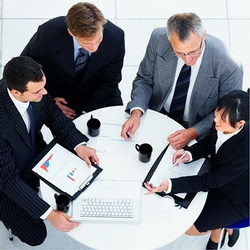 Global Strategic & Enterprise Risk Management Conference
Risk management has become an essential part of corporate management. This conference offers an up-to-date overview of the critical global and strategic risks confronting multinational organizations.
04 - 05 June, 2014
The Conference Board Conference Center
New York, NY
Scheduled Speakers 04 - 05 June, 2014
Scheduled Speakers 04 - 05 June, 2014
Brigida Benitez,
Partner
Steptoe & Johnson LLP
Andrea Bonime-Blanc, PhD/JD
CEO, GEC Risk Advisory LLC
Program Director, The Conference Board
Jacqueline E. Brevard, Esq.
Retired Chief Ethics & Compliance Officer, Merck & Co., Inc.
Program Director, The Conference Board
Martin Coyne II
President NACD New Jersey
Lead Independent Director, Akamai Technologies
Retired EVP, Kodak
Hans W. Decker
Professor, Columbia University School of International & Public Affairs
Retired CEO & Vice Chairman Siemens USA
Craig P. Dinsell
EVP, Chief Human Resources Officer
Oppenheimer Funds
Iain Donald
Vice President & Global Risk Director
Control Risks
Satyajeet Ghosh
SVP & General Auditor & ERM
CA Technologies
Erin Harris
Enterprise Risk Management
Accenture
D'Anne Hurd
Lead Independent Director
Hiperos, LLC
Dawn-Marie Hutchinson
Senior Manager, Information Security
Urban Outfitters Inc.

Dora Gomez, CFE, CRMA
Former Global Fraud Officer
AXA Tech

Stephen Kay, SVP
US Practice Leader
Marsh Political Risk and Structured Credit
Nir Kossovsky, MD, CEO
Steel City Re
Edward M. Levy
Vice President
MetLife Global Corporate Security
Paul H. Luehr
Managing Director, Chief Privacy Officer
Stroz Friedberg
Marissa O. Michel
PwC Advisory
Forensic Services
Matthew Pachman
VP Chief Compliance Officer
FTI Consulting
Pamela Passman
President & CEO
Create.org
Willem J Punt
Head, Fair Market Conduct & Group Ethics Officer
Regulatory Risk Management
FirstRand Limited
Jonathan Tezlaff
Senior Director of Crisis Management & Business Continuity (Retired)
Merck & Co., Inc.
Zain Raheel
SVP Anti-Bribery and Anti-Corruption Officer
HSBC North America Holdings Inc.
Michael Rasmussen
Chief GRC Pundit @ GRC 20/20, LLC
OCEG Fellow @ OCEG
Gerard M. Stegmaier, Esq.
Partner, Privacy & Data Security
Goodwin Procter, LLP
Julia Taylor kennedy
Principal
JTK Consulting Services
Paul L. Walker, Ph.D., CPA
Schiro/Zurich Chair in Enterprise Risk Management
Executive Director, Center for Excellence in ERM
St. John's University