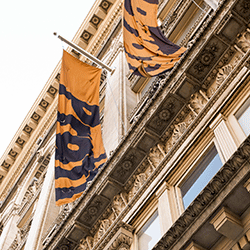 The Conference Board and Pratt Institute Present Design Thinking
Hear from world-class designers and best-in-class companies about how they have applied design thinking in their organizations and how it is helping them out-innovate their competition.
10 - 11 April, 2014
Pratt Institute
New York, NY
Scheduled Speakers 10 - 11 April, 2014
Scheduled Speakers 10 - 11 April, 2014
Learn from a diverse speaking faculty that includes leaders from the business, creative and academic communities:


Erica Eden
Director of Design Innovation
PepsiCo.
Erica Eden's focus is bridging design and strategy, specializing in uncovering deep desires and delivering on real needs. Before her move to PepsiCo, her experience included applying these skills to the elusive and influential female consumer using Design Thinking about what to make, why it matters and how to connect to the women's market. Through her work in diverse fields including housewares, health & wellness, consumer packaged goods, she sees each design challenge through the eyes of the consumer and pioneers new methodologies that close the gap between design trends and real women. Through her work with Femme Den, she redrew the boundaries of design expertise, expanding the need to understand people to include subtleties of gender and beyond.
Erica's work has been featured by The New York Times, World News Tonight on ABC and various design publications including I.D. Magazine, Elle Décor and Blueprint. The Femme Den is recognized as a "Master of Design" in Fast Company's annual design issue. She works to stimulate positive change in design and business communities by speaking out on FastCompany.com and design events including the Consumer Electronics Show, AIGA Design Conference, IDSA, Cincinnati's Contemporary Arts Center, Design Research Conference at IIT, and Femme Den's Broad Thinking Conference. She has a Masters in Industrial Design from Pratt Institute.
Emilio Pardo
Chief Brand Officer
AARP
Emilio Pardo is a senior executive with over 17 years of development and management experience with nonprofit, corporate and governmental organizations. As chief brand officer, he is responsible for creating, coordinating and integrating all brand-related plans from across the enterprise.
Prior to becoming Chief Brand Officer, he was the senior vice president of Business Development, responsible for all product development, product licensing, new market channel development and joint ventures for AARP Services. He also managed all strategic alliances and corporate partnership efforts for AARP, which included working with organizations such as The Home Depot, United Health Care, The Hartford Group, Proctor & Gamble and Travelocity
Michelle Proctor
Director of Innovation
FedEx
In Michelle's almost 17 years at FedEx, she has lead the development of marketing strategy in multiple areas including Catalog, Market Segmentation, Automated Solutions, www.fedex.com and most recently Innovation. As the Director of Innovation, Michelle has been instrumental in the creation of the SenseAware platform including the product development, sales, alliance program, customer experience management and research, branding and software interface. She has been the lead on the co-creation effort and the SenseAware Customer Councils themselves. Michelle is a people focused leader and is passionate about people development. So much so, that she was selected to lead FedEx's People First program aimed at creating programs targeted at investing in employee development and leadership.
Barbara Spurrier
Director, Center for Innovation
The Mayo Clinic
Barb Spurrier joined Mayo Clinic in Rochester in 1997 and served as an Operations Administrator of the Divisions of Rheumatology, Hematology, and Cardiovascular Diseases and hospital operations in the Department of Medicine. She was named Vice Chair of the Department of Medicine in 2003 and served in this capacity until 2008. In 2008, Barb was named Administrative Director of Mayo Clinic's new Center for Innovation.
She received an undergraduate degree (BA in Economics) from St. Olaf College and a Masters in Health Care Administration (MHA) from the University of Minnesota
Dr. Ellen Levy
Visiting Professor
Pratt Institute
Dr. Levy's expertise is the interface between art and science. Specifically, she publishes on how art and neuroscience, biotechnology, genomics and technological innovation effect attention and perception. Her honors include an arts commission from NASA and AICA award, and a Luce Foundation-funded Distinguished Visiting Fellow of Arts and Sciences at Skidmore College.
Dr. Mary McBride
Chair, Arts & Cultural Management and Design Management
Pratt Institute
Dr. Mary McBride Chair of Pratt Arts & Cultural Management and Pratt Design Management. Partner, Strategies for Planned Change, an international consulting group specializing in strategic leadership of creative industries; visiting professor international universities including Esade, Spain; Koc University, Turkey; ISG, France; European University, Russia; former director, Management Decision Lab, Stern School of Business, New York University. Mary McBride has spent her career researching, redesigning and refining the meaning of design and its potential to encourage positive change within organizations and the world at large. The stakes in the 21st century are high, corporations are most able to marshal the resources needed to implement global solutions and the in-house design team of the future must play a role in how those solutions are undertaken. Mary's model called The Triple Bottom Line by Design succinctly yet powerfully defines the opportunity for design and designers to innovate to improve their companies¹ profitability while creating sustainable environmentally sound products and services that truly benefit our society.
Giovanni Rodriguez
Founder
SocialxDesign
Author, speaker, management consultant, Giovanni Rodriguez is at the forefront of a new approach to marketing and movement-making called social design. Co-developed with researchers based at Stanford University, social design enables organizations to empirically develop and test engagement strategies with constituents that have eluded them in the past. With this approach, Giovanni has helped to lead a number of groundbreaking initiatives, including projects for the White House, the Democratic National Committee, the AARP, and large enterprises across a wide range of markets (technology, CPG, financial services, retail, healthcare). In 2014, Giovanni will be launching a new technology platform that leverages the principles of social design to enable large, geographically distributed organizations (corporations, NGOs, affinity groups) to more effectively engage the people they serve.
Monte Gibbs
Digital Media Strategist &
Commercial Web Technologist
Monte is passionate about creating new online markets, engaging web communities and sustainable revenue channels that consumers want, and providing them with original products, unique services and valuable content consumers can experience only online.
Recognized industry-wide for launching wildly popular web-based consumer products, online/casual games and commercial media, entertainment and retail/ecommerce services, Gibbs leverages his extensive knowledge of web-based technologies, his commitment to product innovation, and unique ability to assess future market trends in consumer online behavior toward creating some of the most successful products, services and environments online. Gibbs possesses a unique combination of corporate enterprise, professional consulting and start-up experience, and has developed a successful industry track record of generating unique online consumer strategies and creative technical solutions that leverage powerful data and market intelligence to produce tremendously loyal and revenue-generating web-based communities, audiences and channels.
Chris MacDonald
President
McCann Erickson New York
Last year, Chris MacDonald became President of McCann Erickson New York, the flagship and largest agency of McCann Erickson Worldwide. His previous experience included McCann London where he was Chief Executive. Under his leadership, the agency experienced major creative awards for American Airlines, Heinz and Xbox work, and was named one of London's three best agencies by Campaign Magazine. McCann London also was a key member of the team that handled high profile marketing program for the London 2012 Olympics.
Chris has a proven track record of developing effective and honored communications for many blue chip clients including Coca-Cola, Virgin Mobile, Intel, MasterCard and News International, among others.
Brian Berry
Principal and Design Director
Gensler
Brian Berry has more than 25 years in architecture and design. Among his projects were corporate headquarters for Ogilvy & Mather, Edelman Public Relations and Limited Brands in New York.
Gensler is a firm of architects, designers, planners and consultants that partners with clients on some 3,000 projects every year. These projects range from a wine label to a new urban district. With more than 4,000 professionals networked across 46 locations, they strive to combine localized expertise with global perspective. The work reflects a commitment to sustainability and the belief that design is one of the most powerful strategic tools for securing lasting competitive advantage.