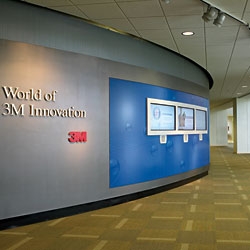 The Innovation Master Class Conference
A Different Approach to Thinking Differently
10 - 11 June, 2014
3M Innovation Center
Maplewood, MN

09 June, 2014 — Pre-Conference Seminar: Innovate Like a Startup: Entrepreneurial Approaches to Breakthrough Corporate Growth
(Click to display details below)

10 - 11 June, 2014 — The Innovation Master Class Conference
(Details are being shown below)

10 - 11 June, 2014
2013 Event Was Sold Out! - Register Early to Reserve Your Spot
"I've attended dozens of innovation conferences over the years. And the Conference Board's Innovation Masterclass was by far the most insightful. No speakers with fully/abstract content. No presentations by vendors looking to sell you something. Only solid content that inspires and educates."
Stephen Shapiro, Author, Best Practices Are Stupid
Think you're doing a lot to innovate? You probably are—but not necessarily the way you should be. It used to be that incremental improvements and changes were sufficient to stay ahead. Nowadays, though, as competitors disrupt your business on a daily basis, you need to find new ways and models to drive growth. You to develop innovative approaches to innovation itself!
The Innovation Master Class conference will give you the tools you need to innovate and pull ahead of the pack. You will discover useful ways to turn your aspirations into reality from leading organizations like 3M, Intel, McDonald's, FedEx, ExxonMobil, Singularity U, United Healthcare Group, Jarden, Venture2, and Inovo Group.
Over the course of three days, you'll have an opportunity to:
Solve your own organization's problems through approaches that help you recognize impractical ideas early and focus on viable, ROI-boosting solutions.
Learn what it takes to transition from a traditionally technically-driven, product-development business to a market-inspired, experience-driven company.
Gain rare and unparalleled access to 3M's Innovation Center via customized, hands-on demos.
Brainstorm strategies to develop breakthrough approaches toward optimizing interactions with other businesses and consumers.
Figure out how to design compelling brand experiences for your customers.
Exchange ideas with fellow colleagues to solve innovation challenges.
Session Topics Include:
To Be Different, Think Differently
Intel's Journey to Better Innovation
Accelerating New Business Models through Entrepreneurial Approaches
Transforming Impossible Into Possible: Experience the 3M Innovation Center
Defining Experience: An Integral Part of McDonald's Innovation Capability
Mini-Business Case: Creating Spaces for Venture Growth
Discussion: Resourcing Innovation Projects – What Works, What Doesn't
Strategy Direction Setting That Delivers Bigger, Bolder Results
Building Ecosystems Required for Growth in Faster-Paced Business Environment
Innovation Begins With Your People
Culture Creation – What Works, What Doesn't
Customer Connections that Fuel Innovation
Challenge-based Innovation: How to Seed New Ventures
NASA: Evolving the Space Exploration Culture to Catalyze Innovation Today
Peer-Assist Panel: Solutions to Your Biggest Challenges
Jumping into Exponential Growth Technologies and Businesses-Leadership Options
Who should attend?
Executives responsible for delivering innovation—especially those accountable for: business processes, business models, people strategies, organizational culture, and technology
For sponsorship opportunities, please contact michael.felden@conference-board.org.