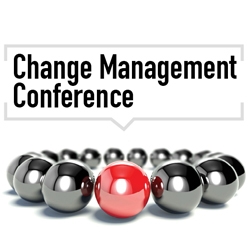 The Change Management Conference
The Rallying Cry for Organizational Change: Personal Responsibility at Every Level
26 - 27 June, 2014
Westin New York Grand Central
New York, NY
25 June, 2014 — Pre-Conference Seminar: Making Change Stick: Stakeholder Communication and Engagement
(Click to display details below)
26 - 27 June, 2014 — The Change Management Conference
(Details are being shown below)
26 - 27 June, 2014
Where Business Leaders and Change Professionals Converge for Breakthrough Thinking
The 2014 Change Management Conference led by business leaders and change professionals including The Conference Board's Change Management Council, will provide you with the tools you need to:
Bridge the Gap between Executives, Managers, and Frontline Employees

Build Ownership and Accountability at Every Level

Coach for Clarity, Alignment, and Shared Expectations
The Conference Board Change Management Council advances the practice of change management by creating new thought leadership and developing capabilities for extraordinary performance.  They have deep expertise in leading transformational change in large organizations and comprise the pre-eminent group of corporate change leaders.
Join them at the conference and compare your practices to some of the best in the world. 
Kinthi D. Sturtevant, Vice President, Strategy and Innovation, Organizational Change Management Centre, IBM Corporation

 

Han-Ron Siah, Vice President, Global Initiatives, Starwood Hotels & Resorts Worldwide, Inc.
Ginny A. Cavanagh, Vice President, Change Management, Johnson Controls, Inc.
Eric D. Hieger, Senior director, Talent Solutions, Global Talent & Learning,ADP
Stacey Threlkeld, Senior Director Organization Capability & Strategy,Nike, Inc.
John Zoeckler, Global Change Management Lead, Air Products and Chemicals, Inc.
Neil Thomas Wilson, Manager, Change Leadership Consulting, Chevron Corporation
Daria Chernovitskaya, Organizational Effectiveness Advisor, The Boeing Company
Who Should Attend?
Change leaders, practitioners, and any executive responsible for transformation and direction setting enterprise wide and/or at the business unit/ departmental levels.