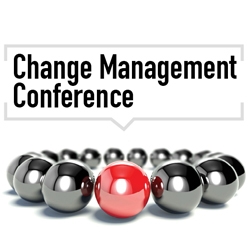 The Change Management Conference
The Rallying Cry for Organizational Change: Personal Responsibility at Every Level
26 - 27 June, 2014
Westin New York Grand Central
New York, NY
25 June, 2014 — Pre-Conference Seminar: Making Change Stick: Stakeholder Communication and Engagement
(Click to display details below)

26 - 27 June, 2014 — The Change Management Conference
(Details are being shown below)

26 - 27 June, 2014
Where Business Leaders and Change Professionals Converge to Rally for Change
We often look for either/or solutions in a both/and world. No one person or work group has all the answers in the ever-changing workplace. The 2014 Change Management event brings together the community of business leaders and change professionals to share experiences, insights and best practices.
Change is changing.
Join the discussion as change executives and practitioners present breakthrough thinking on new frameworks, roles and responsibilities for driving change at all levels.
Managing strategy is managing change.
Learn from those whose coaching conversations made all the difference for individuals, teams and executives, who made change happen.
Navigating the speed, uncertainty and complexity of change can be overwhelming.
Learn to assess and communicate where you are today and discover proven strategies for engaging hearts and minds moving forward.
CAN'T MISS SESSIONS!
Creating a Productive-Ready Workforce
Breakthrough Thinking: Changing the Way We Change Together
Bridging the Gap between People and Possibilities
PANEL: High Impact Coaching for Organizational Change
Be a Change Ninja
A Professional Pivot Point: Change Management Standards and Certification
CASE STUDY: Predicting and Addressing Resistance to Change at an Individual Level
Adoption and Usage: The ROI of Change
Transformational Change: The Journey and the Reward
PARTIAL LIST OF SPEAKERS
Kinthi D. Sturtevant, Vice President, Strategy and Innovation, Organizational Change Management Center, IBM Corporation
Han-Ron Siah, Vice President, Global Initiatives, Starwood Hotels & Resorts Worldwide, Inc.
Ginny A. Cavanagh, Vice President, Change Management, Johnson Controls, Inc.
Dr. Eric D. Hieger, Sr. Director, Talent Solutions, Global Talent & Learning,ADP
Stacey Threlkeld, Sr. Director Organization Capability & Strategy, Nike, Inc.
Plus more!
Register by May 16th and SAVE $200!
Who Should Attend?
Change leaders, practitioners, and any executive responsible for transformation and direction setting enterprise wide and/or at the business unit/ departmental levels.