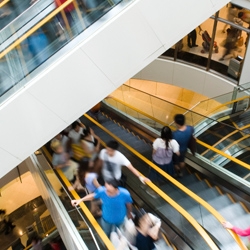 Customer Experience Conference
How industry leaders get customers to fall in love with their experience
27 - 28 March, 2014
The Ritz-Carlton New York, Battery Park
New York, NY
27 - 28 March, 2014
Follow this conference on Twitter: #tcbcel | Follow The Conference Board: @conferenceboard
Customer Experience is undergoing a transformation. Exemplary service is now just the entry point. Mobility, big data and social media have placed customer experience at the center of most organizations. In fact customer experience models will dictate who the winners of the future are. Last year The Conference Board annual Customer Experience Conference sold out and this year the event, entitled, "The Transformative Customer Experience" should be the seminal customer experience event in America in 2014. You'll learn from the top CEOs and industry leaders where the new world of Customer Experience is headed and what your company can do to seize the opportunity. Mark your calendar for March 27 & 28, 2014.
Thursday, March 27, 2014
REGISTRATION AND CONTINENTAL BREAKFAST 7:30–8:30 AM
WELCOME AND INTRODUCTION 8:30–8:40 AM
Robert Reiss, Program Director, The Conference Board
A 8:40–9:40 AM
The Future of Customer Experience
Sharon John, Chief Executive Officer, Build-A-Bear
NETWORKING REFRESHMENT BREAK 9:40–9:50 AM
B 9:50–10:50 AM
Case Study: How to Structure and Align your Organization's Customer Experience Model
Wayne Peacock, Head of Member Experience, USAA
NETWORKING REFRESHMENT BREAK 9:50–10:00 AM
C 10–11 AM
The 3 Mistakes in Measuring Customer Experience
John Carroll, Global Head of Clients, Ipsos Loyalty
D 11–12 PM
Case Study: Building a World-class Healthcare Call Center Organization
Paul Spiegelman, Founder and Chief Executive Officer, The Beryl Companies
NETWORKING LUNCHEON 12:00–1:00 PM
E 1–2 PM
Case Study: Building a Digital and Personal Community Who are Nuts about Your Company
Teresa Laraba, Senior Vice President Customers, Southwest Airlines
F 2–3 PM
Exceptionalizing the Customer Experience
Lior Arussy, Chief Executive Officer, Strativity and client
NETWORKING REFRESHMENT BREAK 3–3:30 PM
G 3:30–5 PM
Panel: Creating the Organizational Link between Culture and Customer Experience
Panelists
Tom Mendoza Vice Chairman NetApp
James Merlino MD, Chief Experience Officer & Associate Chief of Staff, Cleveland Clinic
Kimberly Rath, President, Talent Plus
Michael W. Weinstock, Group Vice President, M & T Bank
H 5–6 PM
Your People: The Key to Customer Loyalty
Gary Magenta, Senior Vice President, Root Inc.
Marianne Scaffidi, Director of Learning and Development, Swarovski North America
NETWORKING RECEPTION 6-7 PM
Friday, March 28, 2014
CONTINENTAL BREAKFAST 7:30–8:30 AM
WELCOME 8:30–8:40 AM
I 8:40–9:40 AM
Case Study: Inside the Zappos Customer Model
Rob Siefker, Director, Customer Loyalty, Zappos
J 9:40–10:20 AM
How to Connect with Customers in China
Savio Chan, CEO, US China Partners
NETWORKING REFRESHMENT BREAK 10:20–10:40 AM
K 10:40 –11:20 AM
Panel of Practitioners: Key Elements of a Successful Customer Experience Program
Facilitator:
David Hsiao, Head of Software Quality, Ericsson
Panelists:
Dave Blair, Director of Customer Experience, Rockwell Automation
Don Bland, Director, Customer Care, FedEx Tech Connect, FedEx Corporation
Dave Maskens, Manager, Customer Experience, Worldwide Quality & Customer Loyalty, Xerox Corporation
Blair Skramstad, Director, Strategic Marketing, John Deere Financial
L 11:20–12:20 PM
Panel: Digital and Social Media Breakthrough in Customer Experience
Trish Wheaton, Managing Partner Global New Business, Y&R Advertising
Chad Mitchell, Senior Director Digital Communication, Walmart
Michele Barlow, Executive Vice President Enterprise Marketing, Bank of America
M 12:20–1:00 PM
How to Build Vision around the Customer: The Ritz-Carlton Hotel Company
CLOSE 1:00–1:15 PM
For speaking opportunities, please contact Mary Beth Reidy at marybeth.reidy@conferenceboard.org.
For sponsorship opportunities, please contact Mike Felden at michael.Felden@conference-board.org.