There are a wide variety of sustainability issues for companies to manage and tackle. When it comes to effective and strategic sustainability reporting, deciding what issues should be included and focused is critical and challenging for companies. The concept of materiality emerges from here—simply put, materiality in the context of reporting refers to "what information matters and to whom".
A materiality assessment allows companies to identify, refine and assess potential environmental, social and governance issues which are sufficiently important that they should inform corporate sustainability strategy and reporting. Companies conduct materiality assessment in different ways and the process can lack transparency. To examine the current trends of materiality practices, The Conference Board surveyed 50 senior sustainability executives from a diverse set of industries both in the US and Europe.
Materiality is originally used in financial reporting and defines the threshold for financial information becoming relevant to the decision-making needs of the users. Later the concept started to be applied to sustainability reporting. In particular, the launch of G4 sustainability reporting guidelines by GRI (Global Reporting Initiative) in 2013 required a specific process for materiality assessment and took the concept of materiality to the center stage. GRI's framework remains the most widely adopted global standard for sustainability reporting.
The Conference Board survey shows that currently 92 percent of the respondents undertake a materiality assessment at the onset of their sustainability program or when reviewing sustainability strategy. Materiality assessment is clearly gaining traction among corporate reporters and growing in scope and relevance to business.
GRI's approach is still the most commonly adopted framework for undertaking materiality assessment, but some companies have started to complement it by considering Sustainability Accounting Standards Board (SASB) and Integrated Reporting (IR) guidelines as well. Among the companies that follow a specific methodology to undertake materiality assessment, 100 percent based it on GRI guidelines. Meanwhile the rest, 36 percent, use bespoke company specific approaches to undertake materiality assessment.
Noteworthily, The Conference Board survey reveals new signs of materiality assessment going beyond sustainability reporting procedures and becoming part of the business strategy setting. Materiality assessment only serving reporting purposes identifies issues material to ongoing sustainability practices but not necessarily material to the overall business. The value of materiality assessment can be undermined when the linkage to business strategy is absent. The Conference Board survey looked into the frequency of materiality assessment (as shown in Chart 1) and finds that most companies still follow a periodical cycle, while a quarter of companies coincide materiality assessment with strategy review, a proactive move to make the connection between materiality assessment and business strategy through embedding materiality as an integral part of the business strategy cycles.
Stakeholder engagement remains a common challenge. The Conference Board survey finds that most companies (89 percent) seek stakeholders' input. It can be a huge task to identify and involve a very long list of potential stakeholder groups (as shown in Chart 2). Furthermore, on average the majority (65 percent) of the companies takes 20 days or more to undertake a materiality assessment, and the majority (72 percent) of the companies take between three to six months to complete the whole process, suggesting undertaking materiality assessment remains resource intensive and time-consuming.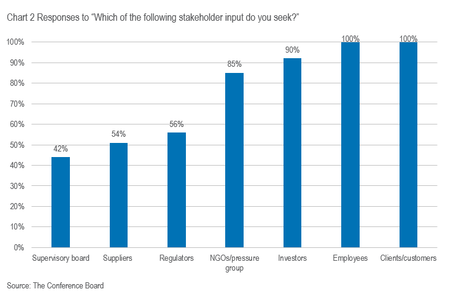 To sum up, since the GRI initially published guidelines on materiality assessment as pivotal part of sustainability reporting half decade ago, the materiality practices have evolved into a strategic business tool with great prevalence, diversified approaches, new alignment to business strategy and high exposure to stakeholders for some companies. These trends signal that the relevance and importance of materiality practices would keep enhancing in the future. This is in line with The Conference Board survey finding that a significant majority (77 percent) of the companies believe the relevance and importance of materiality practices will increase further in the future.
You can hear more on this topic by viewing the webcast "ESG Reporting: different measures of materiality" .