In our globalized economy, talent managers and HR directors are often called upon to develop foreign workforces that lie well outside both their comfort zone and their areas of expertise. No country epitomizes this new engagement more than China, where MNCs often struggle to recruit and retain both the low-skilled entrants needed to leverage China's low-wage labor environment, and the higher-skilled local managers that are necessary to achieve expansion. It can be a daunting task just to understand the Chinese labor environment, and this challenge is set to increase as the dynamics of China's previously stable workforce are in the process of radical change.
As this chart from The Conference Board's China Center shows, education patterns in China have been shifting dramatically over time, and along with those changes, we can anticipate a shift in the character, abilities, and expectations of Chinese labor. Just as MNCs need to take population skill-sets into consideration in developed markets like the U.S. and Europe, it is imperative that strategic planners similarly consider such information in the world's largest emerging country.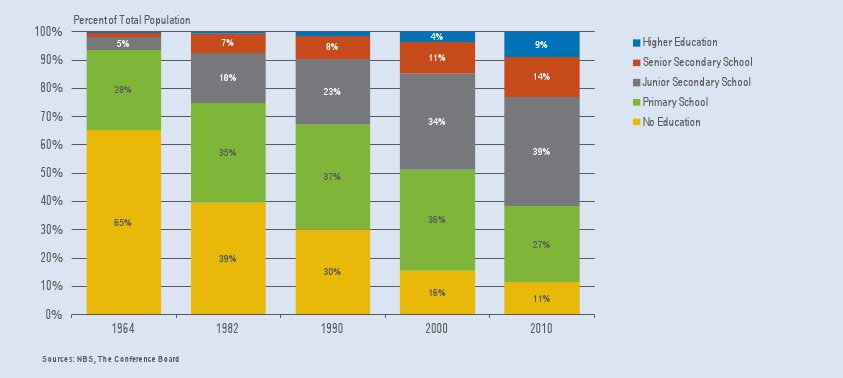 The chart shows changes in educational attainment levels for China's overall population, as measured by national population censuses, including initial findings from China's 6th national population census (conducted in 2010). Higher education includes undergraduate degrees from technical colleges (zhuanke level), bachelor degrees (benke level), and postgraduate education (master and PhD level).1
Facilitated by the implementation of a 9-year compulsory education program and reforms to expand post-secondary education, the educational attainment composition of China's general population is changing dramatically as learning levels are shifting rapidly upward.
Just 20 years ago (1990 data in chart), only a relatively small share of China's population had secondary school or higher education (a total of 33 percent), while the majority of the population (67 percent) had only attended primary school or received no formal education at all. Today, the majority of China's population (62 percent) has attended at least junior secondary school (middle school)—one of the major achievements of China's compulsory 9-year education policy. Illiteracy rates have dropped accordingly—based on 2010 census data, China now has a 96 percent literacy rate.2
Despite some signs of rebalancing,3 large differences in development and income levels across regions have led to highly uneven educational attainment levels, with rural areas and less developed provinces lagging behind significantly. For example, the latest census data shows that while 31 percent of Beijing's population has received higher education, in regions like Henan or Yunnan, the population with higher education accounts for only 6 percent of the total.
Changes to China's higher education system in the late 1990s have led to a surge in college and university enrollment. Within the last 10 years, the share of China's population with higher education degrees has more than doubled. At the same time, rapid aging, low fertility rates and low population growth are causing a decrease in the total availability of younger working age individuals. So while the number of graduates from post-secondary programs continues to increase rapidly, the availability of lower skilled workforce entrants is diminishing. This dynamic will dramatically change China's labor supply situation in the future, especially for new workforce entrants.
This report is the first in a series of Conference Board China Center Charts of the Week that we plan to share on our Human Capital blog. For more information about the China Center and its research, please contact our China Program Specialist, Ethan Cramer-Flood, at ethan.cramerflood@conference-board.org.
View our complete listing of Labor Markets blogs.
Footnotes
1Persons counted at various educational attainment levels include graduates and students in school.
2Illiteracy is defined as people over 15 years of age who cannot read.
3Provinces with low levels of higher education tend to show faster increases in higher education levels than provinces with already higher levels of educational attainment.