In the 2018 Fortune 500, we found that LinkedIn, Facebook, and Twitter continue to be the most popular social networking platforms. However, Instagram and blogging are showing double digit increases in use and are expected to keep rising as companies become better visual storytellers.
Younger consumers typically use pictures, storytelling, and video as their primary communications tools, so it's understandable that the use of Instagram has seen massive growth in the past three years as companies seek to engage with young people. Instagram is constantly developing new ways to allow companies and consumers to post photos and videos (including live video messages), reply to comments, and incorporate hashtags, making a name for themselves by with over 800 million active users.
Additionally, the adoption of YouTube continues to increase. Three hundred and ninety-three (79 percent) corporate YouTube accounts were found among the 2018 Fortune 500, a 4 percent increase from last year. All of the top ten companies on the list have active YouTube accounts. YouTube offers strong potential exposure which can lead to sales, especially among a video-friendly younger audience.
Chart 1
There are over a billion users on YouTube, which generates traffic towards company's channels. Once traffic is directed to a company's channel, the next more desirable activity is to have consumers subscribe to their YouTube channel. This allows a company's audience to stay updated with their activity. YouTube stories, similar to Snapchat and Instagram stories, is a new feature that has recently been integrated into the video platform. This feature can allow companies to communicate with their audience easily every day.
Chart 2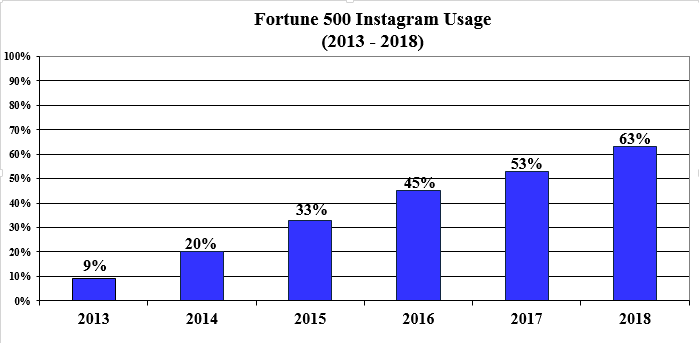 In addition to Instagram, blogging usage has increased over the last several years. Consumers who are exposed to storytelling are more likely to connect with the brand on a different level through a blog. Blogs give the ability to craft a clearer message of a brand much more easily than other social media tools. Unlike the other social media platforms, blogs are a unique way for companies to connect with their audience because there are no restrictions on length, format, or content. More than half of the companies in the top 200 of the 2018 Fortune 500 list (59 percent) actively use blogs to engage with their audience.
While blogs were initially personal logs, they morphed into a unique way to convey a narrative to an audience. In recent years, brands have embraced (and been rewarded for) impactful storytelling. A quick look at top blogs including Coca-Cola, Walmart and Anheuser Busch will show stories about employees, consumers, events or experiences in a format that encourages engagement and arouses emotion. We suspect that this increase in the use of blogs for digital storytelling, and the effectiveness of this strategy, has contributed to the number of companies embracing this tool.
Chart 3