My first trend update of the year focuses on the fast-growing cryptocurrency market. As of today the market is worth more than $700 billion USD. The most famous cryptocurrency is, of course, Bitcoin, but there have always been others—and they are starting to gain prominence and (slowly) entering the world of health, medicine and wellness.
Grounded in blockchain technology, cryptocurrencies are digital assets that can be:
Used as stores of value, and exchanged for other cryptocurrencies, U.S. dollars, Euros, etc.
Utilized to facilitate transactions in digital marketplaces, for data, energy, etc.
Leveraged for many other use cases
Cryptocurrencies matter not only for their functional value, but they are also regularly exchanged on secondary markets and sometimes sharply increase in value based on speculation, when companies behind them achieve specific milestones or other factors.
As outlined in the chart below, we've seen a sharp uptick in mentions of cryptocurrencies in the DigiHealth Informer emerging technology database over the last few months.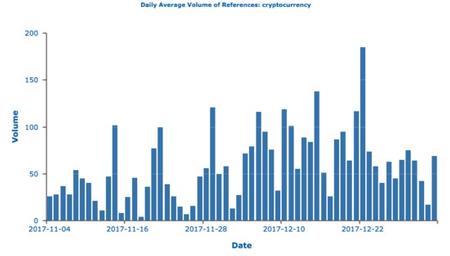 Source: DigiHealth Informer, Keyword: Cryptocurrency, Search Time Frame: November 2017 - January 2018
Increasingly, I've been seeing digital health companies develop blockchain-based solutions that utilize cryptocurrencies, and even deploy pilot projects with health organizations. Some of these include:
Luna DNA is developing a genomic and medical research knowledge base powered by the blockchain and facilitated via a cryptocurrency
Robomed is using blockchain technologies to transform health contracts and payments
Some view cryptocurrencies as a means of financing universal health coverage
MintHealth has launched a blockchain-powered personal health records, users are incentivized to engage in healthy behaviors via its VIDA token
This is a fascinating area that will only receive increased attention over the next year. Stay tuned.
This blog was first published by DigiHealth Informer.