"Find for 63 countries an exhaustive range of quantitative and qualitative labor market data."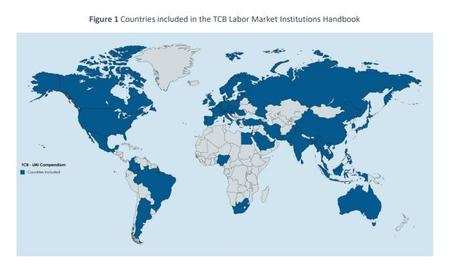 Is your company facing decisions about how to expand globally—in particular, determining which countries would be best for your business to newly locate?
Thomas Smale on Entrepreneur.com in January 2017 wrote about "The Best Countries to Start a Business" featuring his "top 5"—the United States, Singapore, New Zealand, Norway, and the United Kingdom. Some of the main factors determining what's "best" for business are the tax laws, the policy climate around innovation/R&D, and the quality of the local workforce. Evaluating the overall quality of the workforce in a foreign country as a good or best fit for one's company is particularly complicated, as there are many different factors involved. For example, Norway is dubbed one of the top choices because of its "highly skilled workers, in categories like information technology, finance, design, and even music tech"—but Smale points out that "there are downsides to Norway" including that "labor regulations can be quite rigid."
Whether your company is determining in which countries to expand your business operations, or is wanting to more strategically establish and manage your workforce across the different countries you are already in, The Conference Board's Labor Markets Center has a new online resource to help you—described and accessible here.
---
The Conference Board Labor Market Institutions (LMI) Handbook® provides direct online access to a wealth of both qualitative and quantitative information on labor markets–and the institutions and policies that influence employers–for more than 60 economies. This compendium database provides a "one-stop shop" for members to quickly access detailed, country-specific information about labor markets across the globe—and to make cross-country comparisons from reliable sources.
For each country in the online data handbook, institutional features and policies affecting employers–including employment protection, minimum wage laws, collective bargaining, employee benefits, hours and human rights, and retirement and tax policies–are provided. In addition, the domestic workforce is characterized and classified by a plethora of economic and demographic features such as gender, age, occupation, industry, education level, etc. The handbook covers 63 countries which account for more than 97% of the global economy.
---
So, going back to the example of Norway, the information accessible via TCB's LMI Handbook will tell you that labor productivity is extremely high there (second only to Luxembourg of all countries in 2017), but also that Norway has restrictions on working hours that are "extensive and particularly detailed" (for example, "normal working hours must not exceed nine hours per 24 hours and 40 hours per seven days"). Much more detailed information on the characteristics of the Norwegian labor market, and the policies and institutions affecting the labor market, can be found in the Handbook. The organization of the available quantitative and qualitative data by country is described in the LMI Handbook User Guide (pdf file in top right corner of the LMI Handbook webpage).
The quantitative information in the LMI Handbook includes:
Population statistics, current and projected
Employment, labor force participation, unemployment (including temporary and long-term), retirement
Labor costs and earnings (including minimum wage and overtime pay)
Productivity (output per worker)
Educational attainment, language proficiency
Workplace environment (health and safety, strikes and lockouts, teleworking, union membership)
…and more.
The qualitative information in the LMI Handbook includes:
Employment protection regulations
Wage setting and bargaining rules (including minimum wage laws)
Government- and employer-provided benefit programs
Taxes and Social Security
Laws on work hours and human rights
Policies toward immigrant workers
Equal opportunity laws
…and more.
We hope that our member companies will find TCB's Labor Market Institutions Handbook useful in planning your global business operations—and we welcome and encourage your feedback and suggestions as we continue to expand and improve it.