Members of The Conference Board's Corporate Citizenship and Philanthropy councils are responsible for at least $58 million in donations to the Hurricane Harvey relief efforts, according to data submitted to the U.S. Chamber of Commerce Foundation. Half our council members submitted information to the foundation regarding their Harvey commitments. Their donations account for more than one-third of the total $157 million committed by companies in the United States to Hurricane Harvey relief efforts. The total for the council membership could be considerably higher when considering the commitments of the other 50 percent of companies that did not submit their information.
The $157 million aid contributed by companies so far to the Harvey relief effort already makes it the fourth most significant amount on record in terms of business aid for disasters in the first six months. The current top five is outlined in the table below.
Table 1: Comparison of Business Aid for Disasters
These sums represent pledges made within the first six months of the disasters; investments in long-term recovery and reconstruction are not necessarily reflected.
Source: U.S. Chamber Foundation Corporate Citizenship Center.
Council members' relief support includes cash gifts, volunteering, and product donations. In addition, nearly 60 percent of the companies are offering a matching gift program for employees, with both 1:1 matches and 2:1 matches accounting for a proportion of the cash gifts. The limit for these matching gift programs ranges from $50,000 to $500,000, with the median at $100,000. In some rare cases, companies are also opening their matching gifts programs to retirees and customers in order to increase the total amounts. Wal-Mart, for example, has pledged to match customer donations up to $1 million.

Corporate relief in the context of economic recovery
The efforts from these member companies will be integral to the local recovery, as The Conference Board finds that Hurricane Harvey was one of the costliest storms in U.S. history, ranking between Hurricane Sandy and Katrina (see Chart 1 below). Harvey has had a devastating effect on the local Houston economy, but nationally the impact is less significant.
Chart 1: Billions of Dollars of Economic Loss from Storms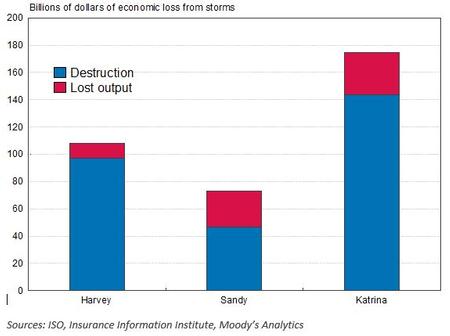 Sources: ISO, Insurance Information Institute, Moody's Analytics
It's important to note that the Houston economy is much stronger now than the New Orleans economy was in 2005, so The Conference Board anticipates that the recovery in Houston will be faster and more complete. With oil refining capacity rapidly coming back online, the recent energy price increases are likely to reverse quickly, meaning the negative economic effects are not expected to be strong nationally. This points to even greater importance of local investment.
Click here for more analysis from The Conference Board on the economic impact of Harvey.
Local disasters require a local response
This focus on the local economic impact spotlights the need to fund local organizations that are on the frontlines of the restructuring long after the event.
GlobalGiving notes that its disaster funds, which accept donations for distribution to locally driven projects in disaster-affected areas, continue to receive donations, on average, for about two years after a natural disaster occurs. Other funds are active much longer. GlobalGiving's 2011 Japan Earthquake and Tsunami Relief Fund, for example, is still raising funds six years after the tsunami to support a range of long-term projects that will help Japan withstand future disasters.
For Harvey, the strength of the Houston economy prior to the hurricane bodes well for local fundraising efforts. GlobalGiving reports that it's had 139 percent more fundraisers started by small and medium-sized businesses for Harvey—presumably many of which are based in the Houston area—than for the 2015 Nepal earthquake.
It's clear that as the rebuilding phase commences, local nonprofits will need critical support. Although the American Red Cross has been the primary beneficiary of corporate funding—which is incredibly important in the immediate aftermath of a disaster—our member organizations also see the importance of local organizations and supporting them as they begin to rebuild. A number of local organizations were beneficiaries of corporate funding from our council members, including:
Greater Houston Community Foundation
Coastal Bend Community Foundation
Houston Food Bank
San Antonio Food Bank
In addition, employee-focused disaster relief funds—funds administered by companies that encourage employee donations year round and provide relief to employees during emergencies—have been activated to direct funding to Houston-based workers.
Even where national nonprofits like the Red Cross, Feeding America, or Habitat for Humanity were the primary recipients of the donations, The Conference Board member companies made a dedicated effort to direct their resources to local Houston projects administered by those nonprofits.
The importance of local relationships in disaster preparation is detailed in the recent Giving Thoughts Series article, "The Future of Disaster Philanthropy."