The struggle for talent, which employers have experienced as unemployment rates have crashed below 5.0 percent, represents a new normal. During the next 15 years, the working-age population in the US will barely grow, making tight labor markets a long-lasting trend. Going forward, expanding our country's labor supply is one of our major economic and societal goals. How can this be achieved?
Increased immigration could in theory expand the labor force, but this is unlikely given the current policy environment. The more likely solutions are higher labor force participation rates and higher labor productivity. Alternative work arrangements are a tool well suited to this challenging labor market environment. Using them more frequently can increase labor force participation and boost worker productivity—and it has already been happening. According to a recent study, the growing ranks of independent contractors, on-call workers, temporary-help-agency workers, and workers provided by contract firms are estimated to constitute 94 percent of the growth in U.S. employment between 2005 and 2014.
A robust market for alternative work arrangements can increase labor force participation by either increasing hours worked for existing workers or drawing workers into the labor force who would otherwise stay on the sidelines. Workers have long sought the ability to right-size employment, be it picking up a bit of extra cash through a second job or working part time to make raising a family easier. Advances in computer and mobile technology have facilitated communications and enabled those workers seeking more flexible work lives to connect with those businesses who demand their services. Independent contractors can strike out on their own to pursue career paths that involve selling services to multiple employers. Contract work provides a chance for older workers or those seeking to reconnect with the work force after long spells of unemployment to find opportunities to earn a living without making a larger commitment or forcing employers to do the same. For workers constrained by location, time availability, or physical disability, non-traditional work relationships provide a point of reentry into the labor market that is not "all" (40 hours/week) or "nothing."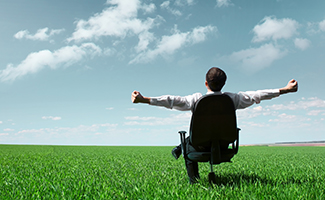 Non-traditional work arrangements also provide businesses a way to make their workforces more productive. The flexibility of independent and contingent work can help firms more closely match workers with business needs. Labor forces become more fungible resources. Firms can borrow and lend idle workers on an as-needed basis. For routine tasks, the use of on-call scheduling to match fluctuating consumer demand has increased. Highly-skilled functions, too, have been changed as firms can engage independent contractors and consultants to bring a fresh and custom-tailored perspective to internal business problems or to help implement process improvements. A right-sized workforce can be a more productive one.
For executives to fully leverage the power of alternative work arrangements they need not only platforms for hiring. They also need to lead the way in ensuring that the appropriate eco-system of training, engagement, and benefits are provided to offer these workers greater stability in an uncertain world.
The traditional loyalty model of long tenure and mutual fidelity between employee and company conveys benefits to both parties—benefits that alternative work arrangements should seek to emulate. Providing platforms of good employee engagement practices and stable health and retirement benefits are essential for expanding the role of alternative ways of working in the labor market. These workers may have brief tenures but still need to become fully invested in a company's long-term success and have the opportunity to develop human capital that will make them more valuable to others they contract with.
Business is only starting to determine the best ways of using digitally-enabled models of contract to address organizational labor shortages and enhance worker productivity. All stakeholders—businesses, workers, local-community organizations, and government officials—have only started to grapple with the question of what a more secure and satisfying vision of the on-demand economy should look like. It is time for policy to contribute more to the solution.
View our complete listing of Labor Markets blogs.