This report was also highlighted in a recent article published in The Wall Street Journal. For WSJ subscribers, you can click here to read this article.
One of the implications of an improving labor market is employees becoming more satisfied with their jobs. In a better labor market, employees are less likely to be laid off and more likely to have a job they enjoy, to obtain raises, and receive better treatment from their employers.

Today, we release the results of the latest annual survey of job satisfaction. The Conference Board job satisfaction survey was first released in 1987, which allows for demographic and regional comparisons over time. In addition to overall job satisfaction, the survey covers 23 components that contribute to job satisfaction, including wages, job security, promotion policy, and health plan.

The survey results show that in the post-recession recovery period, job satisfaction has made incremental gains each year. In the most recent data, nearly half of US workers (49.6 percent) are satisfied with their jobs. Overall job satisfaction is at its highest since 2005 (see chart below).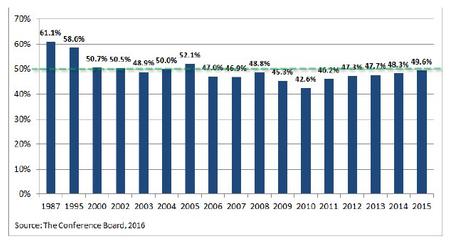 Increasing job satisfaction is largely due to labor market improvements and tends to mirror overall gains in the labor market. The rapidly declining unemployment rate, combined with increased hiring, job openings, and quits, signals a seller's market, where the employer demand for workers is growing faster than the available supply. Young workers especially are benefiting from this—their wage growth has accelerated in recent post-recession years, as has, not surprisingly, their satisfaction with their wages and job security.


This year, the job components US workers are most satisfied with are: people at work, interest in work and supervisor. The bottom five job components all relate to evaluation of employee performance and, by extension, how and whether employees can expect to advance in the company: promotion policy, bonus plan, performance review process, educational/job training programs and recognition/acknowledgement. Employers can see there is room for improvement in these job components and can concentrate their efforts on increasing job satisfaction in these areas.

For the first time, in this year's survey findings we combined five years of data, from 2011 to 2015, to produce enough observations to attempt to measure aggregate job satisfaction by state. A map of job satisfaction by state is included in the report. During these years, Texas had the highest job satisfaction in the country, perhaps due to the oil boom that occurred throughout most of the survey period of 2011 to 2015.

More satisfied workers are likely to be more engaged and more productive employees. Surprisingly, one of the biggest mysteries and most disappointing trends in the US economy is the very weak growth in labor productivity over recent years. Hopefully, the improvement in job satisfaction will help boost labor productivity in the coming years.
View our complete listing of Employee Engagement and Labor Markets blogs.