"Creativity is just connecting things. When you ask creative people how they did something, they feel a little guilty because they didn't really do it, they just saw something. It seemed obvious to them after a while." – Steve Jobs
Believe it or not, there was a time when sticky notes, disposable diapers, luggage on wheels and bite-sized Snickers didn't exist. Yet those are precisely the types of products we look at and say, "Why didn't I think of that?"
Giant corporations invest billions of dollars in research and development to create merchandise that consumers will find irresistible. In many instances, however, the best ideas come from non-professionals – regular folks who simply have a unique perspective on the world.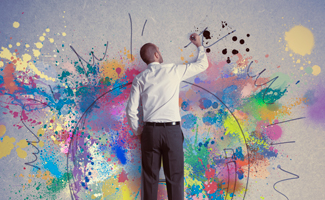 Innovators are naturally curious and keen observers, says Jeff Dyer, Hal Gregersen and Clayton M. Christensen, authors of The Innovator's DNA. They "challenge conventional wisdom" and ask a lot of questions. Michael Dell took apart the first computer he ever got to see if improvements were possible.
Of course, not everyone is a born inventor or innovator. Visionaries such as Henry Ford, Nikola Tesla and Steve Jobs – individuals who literally altered history – are few and far between. But according to Joi Ito, director of the MIT Media Lab, the Internet has "demolished barriers" for those determined to follow their entrepreneurial or innovative instincts.
"This is a fundamental new way of thinking about innovation," Ito explains in his TED presentation, Want to Innovate? Become a Now-Ist, available on the getAbstract website. "It's bottom-up innovation, it's democratic, it's chaotic, it's hard to control. It's not bad, but it's very different, and … the traditional rules that we have for institutions don't work anymore."
In the old days, Ito says, you had to draw up a traditional business plan and secure funding before you could actually create your innovation. Thanks to the Internet, the costs of innovation have been slashed dramatically. You build your product or service first, then look for investors and formulate a business plan.
"Though the world is extremely complex, what you need to do is very simple," says Ito. "(Stop) this notion that you need to plan everything, you need to stock everything and you need to be so prepared and (instead) focus on being connected, always learning, fully aware and super present."
Dyer, Gregersen and Christensen believe you can learn to develop your creative skills through specific techniques and processes. It's a matter of looking at things closely with a critical eye to see whether a product, service or process can be improved. Paying attention to feedback is a critical component.
"General intelligence (at least the way scientists measure it) is basically a genetic endowment, but creativity is not," the authors write. "Nurture trumps nature as far as creativity goes."
View our complete listing of Leadership Development blogs.
---
Interested in this topic? getAbstract members can read these four summaries on getAbstract to spark innovation and creativity.