In recent years, we at The Conference Board have been writing about the tightening labor market and looming labor shortages. On April 18th, we will release our latest report on this topic as labor markets continue to tighten.
What are the risk of labor shortages in STEM (Science, Technology, Engineering, and Math) and especially computer-related occupations? In recent years, a heated debate has been developing regarding whether or not we are experiencing, or will experience, labor shortages in STEM. Our recent work on evaluating the risk of labor shortages by specific occupations provides us with some insights that could contribute to this debate. For our labor shortages report, we created an occupational labor shortages risk index, which ranks about 460 occupations by the risk of experiencing labor shortages in the coming decade. Our labor shortages index is, to our knowledge, the only analytical framework that compares the risk of labor shortages across occupations using the same metrics.
While the nation as a whole will experience labor shortages, not every organization, occupation, or industry will be equally affected; indeed, some may not suffer any shortage at all. There are variations in the main drivers that will affect the development of labor shortages in each occupation.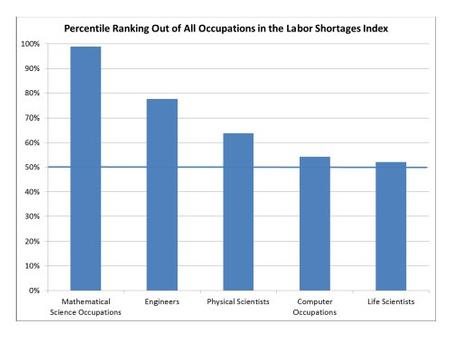 Source: The Conference Board
Among the STEM occupations, there is a large variation in the risk of labor shortages in the coming decade (see chart). Mathematics jobs, as a group, are ranked very high in our labor shortages risk index – higher than 99 percent of all occupations. As a result of the growing demand for workers who can analyze "Big Data" in different organizations, mathematical jobs are among the fastest growing occupations in the labor market. In addition, they require a high level of education and skills. We will write more about the risk of labor shortages in mathematical jobs in a future blog.
Engineering jobs, as a group, are also ranked well above average, with environmental engineers, and biomedical and agricultural engineers, ranking among the highest of all occupations.
On the other hand, computer jobs are ranked just above average, but perhaps still surprisingly low in our labor shortages index, despite the fact that they are expected to grow rapidly in the coming decade. What is driving the surprisingly low rank of computer jobs?
1) Compared with other occupations, the share of baby boomers in computer jobs is small. The supply of computer occupation workers will suffer less from the retirement of baby boomers than most other occupational groups. In addition, among younger workers, computer jobs are considered attractive and draw a large share of new entrants. One of the reasons for the large share of new entrants into computer jobs is a large flow of immigrants.
2) If shortages do occur, recruiters in computer occupations have more flexibility than in most other types of jobs. In addition to tapping the immigrant population, employers of computer jobs are much more likely to be able to offshore jobs or allow for remote working locations, including employees' homes. Twenty-two percent of web developers and 12 percent of computer programmers work primarily from home, much higher than the average for all occupations (4.5 percent). In addition, in most computer jobs, employers and employees are not restricted by any legal certification or licensing requirements.
3) Computer jobs as a whole do not rank very high in education and skills compared to other skilled occupations. In fact, computer jobs rank just above average among occupations requiring a BA and above. Fourth, employment projections by industry suggest that some of the computer-heavy industries are likely to experience slow, and in some cases even negative, employment growth in the coming decade. In some industries the slowdown in employment growth is due to offshoring, and others have higher rates of labor productivity growth than in most other industries.
Within computer jobs, some occupations are ranked higher than others. Computer system analysts and information security analysts are ranked high due to projected rapid employment growth, while computer programmers are ranked well below average.
Before concluding this post, one caveat is in order. Because of the speed at which skills and knowledge become obsolete for some computer jobs, there is likely a higher need to retrain computer-related workers compared to other occupations. We are unable to capture this in our index, and as a result we might underestimate the risk of shortages in some computer occupations. Therefore we are not arguing that finding qualified workers in computer jobs is going to be easy. But we do argue that there are several factors that are significantly reducing the risk of labor shortages in computer occupations in the coming decade.
Please stay tuned as our related labor markets research report will be released in April and more blogs on this topic will be posted over the next several months.
View our complete listing of Labor Markets blogs.