Last November, The Financial Review published an article suggesting that companies should "swap employee engagement surveys for a more robust diagnostic that focuses on 'something truly worth measuring.'" And Gallup recently noted that overall engagement for US companies has not changed much since 2011 despite the money and effort put towards engagement surveys and initiatives.
So does this mean your engagement program is a waste of time and money? Is it time to find another kpi and scrap your employee survey? Unless your leaders make their best decisions with their heads in the sand, the answer is no. But if your engagement strategy is only to beat external benchmarks and your leaders and managers are fixated on their score, you probably do need to change the way your organization thinks about employee performance and motivation. Let me explain. It seems to me as though we are trying to make engagement survey programs into something they are not. This means we are not fully utilizing the value and insights they bring, and deep down that's really the problem we need to address. Here is what I think needs to change…
First, we need to stop thinking about employee surveys as only a metric for the overall health of an organization. At Sirota, when we work with organizations, we are more concerned with finding real insights from the data versus how your overall engagement score compares with others. In particular we want to find the things that can tell us where to focus action and intervention. Benchmarks are important to have but they should not be the primary focus. Even if other companies in your industry are scoring higher than you, I guarantee they have their own set of specific issues they are working on that are critical to their employee populations.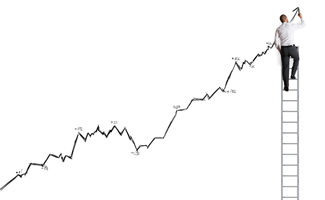 The point is, you should be focused on your own set of issues and use the internal benchmarks (which are typically more useful) to help pinpoint your hotspots and bright spots. Normative data can help you understand where scores typically fall for specific items or dimensions. But, at the overall level, they won't help you improve.
To use a useful analogy, when you go to the doctor for your annual physical, do you just want to know your overall health index and how it compares to others? No. You want to know where your health is strong and where it needs to improve. The value is in that specific diagnosis, not the overall metric. From year to year, your overall health index might remain pretty stable, but you will face different health issues that pop up at different times that need to be understood and addressed.
I often hear people bring up the fact that there are many different definitions of engagement and it is being measured in different ways. This is true but is it a problem? While a universally accepted definition of engagement would be nice, it is actually more important to define what engagement means in your own organization. Having a uniform metric around engagement is less important than helping the organization have data that is specific to their unique needs and issues.
Sirota has been running employee surveys for more than 40 years and we remember a time before "engagement" was even accepted terminology. Interestingly enough, many of the core elements [management, leadership, communication, role clarity, team, development, etc] are still as important today as they were when we started our work. Not to say that engagement approaches are stagnating. We are doing research all the time to understand new practices and approaches. But, the overall point is that the terminology we use around engagement and the specific definition is less critical. The goal is to measure the things that are most important to your employees' experience and how they feel in terms of their ability to deliver on the organization's strategy.
Of course, there are still numerous studies that show a link between engagement measurements and business outcomes. However, these links exist using many different constructs or dimensions within employee survey results. Whether it is engagement, satisfaction, achievement, camaraderie, equity, views of leaderships, or the mindset of the manager, we frequently see that work units performing better on these measurements tend to perform better for the business.
So how will you know if you're too focused on Engagement as a metric? Here are 4 key issues to look for:
There is bad management behavior related to the survey responses– managers held accountable for an 'engagement score' on a performance scorecard are more likely to find less productive ways of ensuring strong results (especially if it is tied to their pay). They forsake an opportunity to get feedback from their team so that they can get a good score.


Measurement is too broad and general – If you design a survey solely for the purpose of having an overall metric around engagement, it will often lead to a very broad and general questionnaire. Surveys should be designed using an approach based in science and research while tailoring the instrument to generate insights that will be the most valuable to the organization. Just asking a few high-level questions in an on-going pulse survey, for example, will not give you much by way of actionable insights.


The focal point is on the number, not the insight – executives that buy into 'engagement as a metric' are more interested in the overall score and comparisons to benchmarks than the real story behind the results.


The "Burden of Proof" is on HR – many times we sell the need for an employee survey to our executives by telling them that the engagement measurement will be a leading indicator of performance. This puts HR in a position of constantly trying to prove this is the case. They end up focusing on finding the right type of analysis that will show the link between engagement and performance, versus spending time on initiatives to create positive change and drive action.
Let's stop worrying about the metric as an overall business indicator and start using the data. Use it to gain perspective on what might allow employees to better deliver on their objectives. Dig deeper than the engagement metric to pull out useful and actionable insights. Let the focus be on the insights provided by the process and not the metric itself.
This blog first appeared on Sirota's website on 01/13/2016.
View our complete listing of Employee Engagement blogs.