Watch the On Demand Recording of our July 2015 Book Discussion web cast, featuring author, Dr. Shelton Goode, DPA, Director, Diversity & Inclusion at Oshkosh Corporation, as he discusses his latest book,Diversity Managers: Angels of Mercy or Barbarians at the Gate.
People ask me all the time, "What is an authentic leader?" Based on my 20 plus years' experience of being a business and human resources executive, in my opinion, an authentic leader is a person who inspires people to follow, demonstrates a vision and passion, empowers others to achieve great things, enhances the engagement of people and propels them to higher performance and results.
The authentic leaders I have worked for also excelled at managing diverse work teams and created a work environment that was a wonderful and uplifting place to work. Last, but not least, authentic leaders care about their people and want their teams to succeed.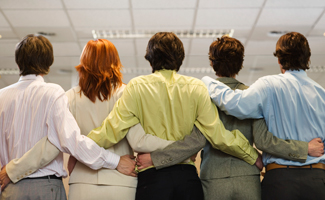 The end result is a work place where everyone on the team feels valued, respected and engaged. They feel compelled to reach their full potential, which ultimately contributes to greater productivity and impacts the organization's bottom line. It goes without saying that authentic leaders embrace diversity and inclusion and often puts the needs of the organization and its people above selfish gain.
As I reflect on those authentic leaders I worked for throughout my career, I remember fondly those individuals that helped shaped my thoughts on leadership. I recall being a young Air Force NCO in Madrid, Spain who had just been fired for being an ineffective manager. I also remember the senior NCO who fired me telling me, "Shelton I'm taking you out of the game and sitting you on the bench so that you can learn the difference being a good manager and a great leader." During the next six months, he helped enhance my leadership skills by modeling transparency and courage. I witnessed first-hand that one of the most powerful skills of a good leader is selfless service and concern for the well-being of others. Once he put me back in the game and gave me my supervisor position back I never forgot that key fact.
In my book, Diversity Managers; Angles of Mercy or Barbarians at the Gate, I discuss the link between authentic leadership and workplace inclusion. I discuss that authentic leaders are people who shape a vision for success where diverse members on the team can not only survive, but thrive. These leaders understand the importance of focusing on the development and growth of everyone on the team so that they can reach their full potential.
What is an authentic leader? An authentic leader embraces diverse, collaborative and integrated thinking, which is key to sustaining organizational success – a sustained success which cannot be achieved without effectively managing diverse work teams and creating inclusive environment for them to work.
View our complete listing of Diversity & Inclusion blogs.