Let's face it: we are in an era of unprecedented transformation across the globe in every sector. Leading an organization through complex issues in these unprecedented times require strategic pause at critical junctures in order to do some organizational soul searching.
Successful companies focus on their core competencies, do less with more, fight to retain clients as well as high performing employees, all the while increasing the bottom line. Even in high performing companies that appear to "have it all", every once in a while, change leaders need to have the courage to take a step back from all of the madness and ask "are we going through too much change at the same time?"
It's a rare question that even the boldest, most courageous leaders may forget to ask at critical times; recognizing change fatigue and recalibrating can save your change program.
An aspect of building and evolving the change management capabilities and competencies within your organization includes the ability to recognize change fatigue. Here are 7 ways to identify and overcome change fatigue within your organization:
1. Leaders must recognize change fatigue and address it quickly. What does change fatigue look like? Resistance. Employees are faced with a constant barrage of change programs from numerous angles of an organization all at the same time that are deemed urgent and important. This common symptom of transformation over time wears and tears on our workforce.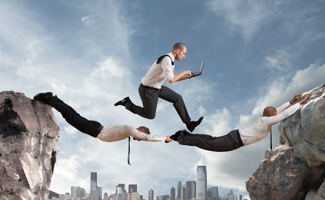 Even if the change programs are developed and managed competently, and executed to the highest performing workforce that gets it, resistance will begin to creep in if the change is not properly defined or managed. Change fatigue resistance can result in lower employee productivity and morale, higher costs, and program delays. At its worst state, change fatigue causes confusion, increased attrition, miscommunication and decreased credibility; in other words, people simply check out.

2. Make sure that you have clearly defined your change problem and provide a burning platform to do so. Nothing can be more frustrating for your organization than asking employees to make changes that they don't quite understand. Unclear vision and fuzzy expectations can also lead to change fatigue. Address the earliest hint of change fatigue head on by clearly articulating the business case and need for change in language that resonates with the audience.
Recognize upfront that you can't do everything you used to while implementing a complex, high stakes change program. Ask yourself, "What do I need to invest in to implement a sound transformational change strategy? And when?" Which activities can be delayed or stop altogether during the transformation? It may sound simple but constant reprioritization during the course of the program is one of the most critical yet overlooked steps in the process of change during these times. Accept and welcome tradeoffs as required to stay the course.

3. Be willing to negotiate for more time for your change programs. Time is the #1 most critical asset and contrary to common belief, time is a change program's primary ally. Only time will allow for the true caring and feeding you will need for your organization to culturally absorb (and accept) the change you are seeking to embed in order to move along the change curve towards full adoption and acceptance.

4. While quick wins might buy you time in the beginning, you have to know when to switch gears and begin to demonstrate real ROI value because change fatigue symptoms will begin to creep in after the dust settles on your momentum. Especially from resistors. Each organization's culture is different in gauging when to switch gears towards longer term interventions, so make sure you continue to pulse check your stakeholders for cues and symbols of resistance. Refrain from allowing your change programs to become gimmicky; constant quick hits are not sustainable interventions in the long term.

5. Place priority on articulating what success should look like in the form of measurable and realistic performance metrics along the entire journey; a snapshot of the current state and future state performance metrics only provides a portion of the big picture. Employees must not only buy in to what the finish line looks like, they must also be brought along the journey to understand critical milestones.

6. Realistic, engaging and meaningful communications are the key to any program. Traditional, top-down communication networks are no longer sufficient and are a surefire way to create change fatigue because of their predictability. Change programs must tap bottom up and middle-from-within vehicles to get the messages directly to the key audiences. Creative communication vehicles such as mobile apps, SMS messaging, internal social networks, town halls, affinity groups, etc… to get your message out and across.

7. Consistently communicating progress against performance measures throughout the duration of the program in various methods is critical. If employees continue to get the same monthly email template with updates for the last 2 years, it could lessen the impact of major accomplishments. Keep communication visuals, materials, and talking points constant yet fresh on a regular basis.


* The views expressed herein are those of the author and do not necessarily reflect the views of Ernst & Young LLP.

View our complete listing of Talent Management and Strategic HR blogs.