All across Europe, countries are trying to reform labor markets. Countries like Spain, Italy, Portugal and Greece are currently in the process of modernizing their labor markets in the hope that this will help them regain competitiveness and drive down the high unemployment rates that the countries are battling. That reforms are a tricky business and could also have large negative side effects is well known. It is likely that the unemployment rate in Spain will go up before it comes down after the reforms. Even the much applauded German reforms have had their winners and losers, and, as it turns out, the seniors have won.
Midway through the 2000s, the German labor market was reformed, and the measures taken made early retirement much more difficult. This meant that there were a lot of people that needed to work much longer than their older peers, which has resulted in an enormous jump in the employment rate for the 55 to 64 age group. As displayed in the chart below, this type of jump has not been seen in any other major country in Europe, which sets Germany up nicely for the ageing population that the country will be battling in the decades ahead.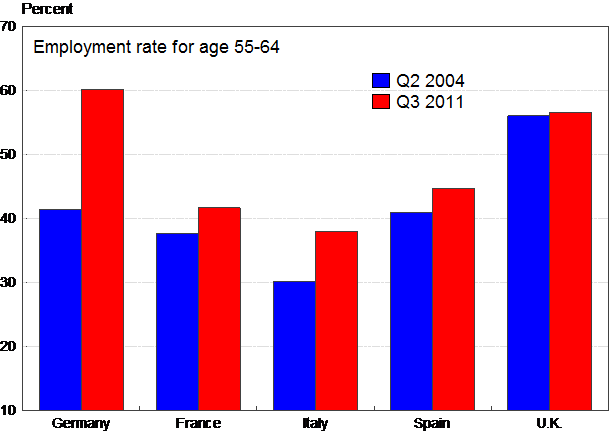 Sources: Eurostat, The Conference Board
But the downside of the story is that, as Germany still has rather difficult hiring and firing regulations, all of the older Germans have been keeping their seats and, as a result, making opportunities for younger generations more difficult. As shown in the chart below, the job growth since the start of the 2008 recession, which has been called the German labor market miracle, has been soaked up by the increasing employment of seniors. For the younger generation of Germans, there are still 1.6 percent less people with jobs than before the recession, which is a meager performance that can hardly be considered a miracle. The 25 to 54 age group, which makes up the vast majority of the labor force, has only seen a 1.3 percent increase (not anything worth noting). Clearly, the German reforms have allowed the older generation to retain their jobs, but have not been able to provide the younger generation with more jobs. If Germany had had less growth than it did over the past years, youth unemployment could have made the country much more Mediterranean than many Germans would have liked.
Sources: Eurostat, The Conference Board
View our complete listing of Labor Markets blogs.