For further information on the topic below, read results and analysis from The Conference Board's 2015 Job Satisfaction Survey.
Click here to read other labor markets blogs by Dr. Gad Levanon.
The annual, 2015 survey of Job Satisfaction was released last week by The Conference Board. A survey of 5,000 households conducted by The Nielsen Company in the fall of 2014 indicates that 48.3 percent of currently employed Americans are satisfied with their position—a slight improvement (0.6 percentage points) from 2013 to 2014. To read the press release click here.
Members of The Conference Board can read the full report here.
In this blog, I would like to highlight a new type of analysis first conducted in this report. We want to explore whether labor market tightness is correlated with job satisfaction. Why should there be a relationship?As the labor market shifts to a "seller's market," workers are better able to improve their job situation in several ways:
Faced with a greater number of and more attractive external job opportunities, existing workers are in a better position to seek new opportunities that are potentially better suited for them.

Existing workers are less likely to be laid off/fired in a tight labor market, which could reduce their job security related fear.

Tighter labor markets lead to faster wage growth and improvement in other benefits and perks as a result of direct effort by employers to reduce turnover.
The Conference Board Consumer Confidence Survey is uniquely equipped to investigate the relationship between labor market conditions and job satisfaction, as it asks respondents about both the extent to which they are satisfied with their current job and their perceptions about the availability of jobs in their area. More explicitly, each respondent is asked, "What would you say about available jobs in your area right now?" The available responses are: "Plenty," "Not so many," or "Hard to get."
We find that individual perceptions of labor market conditions are tightly correlated with the national unemployment rate, which suggests that their perceptions are often in line with actual job availability at the national level. In Chart One, we see that there is a very high correlation between the unemployment rate and the percent saying "jobs are hard to get".
To understand how this affects job satisfaction, we compare the satisfaction of respondents who feel that jobs are plentiful with that of those who feel that jobs are hard to get. Chart Two shows the percentage of difference in satisfaction with various aspects of their job between those who feel that jobs are plentiful and those who feel that jobs are hard to get. Those who feel that jobs are plentiful are 29 percent more likely to be satisfied with their job overall; they are also 30 percent more likely to be satisfied with their wages and 32 percent more likely to be satisfied with their job security.
It is not surprising that job security and wages are the most discerning job components with regard to job availability. Compared to the other job components, job security and wages are most influenced by an improving job market. While we see a strong relationship between job availability and job satisfaction, our estimates of that relationship do not necessarily measure the causal relationship between the two.
One of the most significant developments in the U.S. economy in recent years has been the improving labor market. Just how much of a difference has the recovering labor market made on U.S. job satisfaction? Using a basic regression model, we estimate the impact that changes in job availability has had on overall job satisfaction since 2011, and therefore separate the underlying trend of overall job satisfaction from improvements in the labor market (Chart Three). Controlling for workers' perceptions of job availability (blue), we find that the underlying trend of overall job satisfaction tells quite a different story from our original base estimates (red). Since 2012, underlying overall job satisfaction has actually been in a gradual decline, but it has been significantly bolstered by an improving labor market in which jobs are increasingly plentiful and qualified workers are harder to find.
Not only has the tightening labor market had a sizable impact on job satisfaction in recent years, but more importantly, it will continue to do so for the next 15 years. According to the U.S. Census Bureau, the size of the working age population—another measure of long-term supply of labor—is expected to grow at a historically slow pace— near 0.5 percentage points in the foreseeable future based on demographic trends. As we discussed often in our research, this slow growth suggests that the war for talent will only continue to escalate.


Chart One: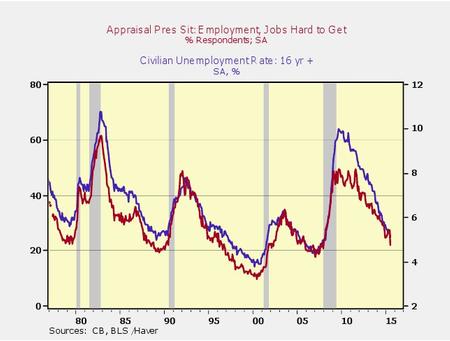 Note: Red line (left axis) – from the Consumer Confidence Survey, percent replying "jobs are hard to get".
Chart Two: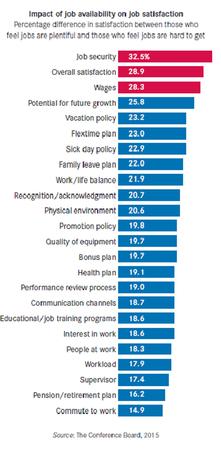 Chart Three: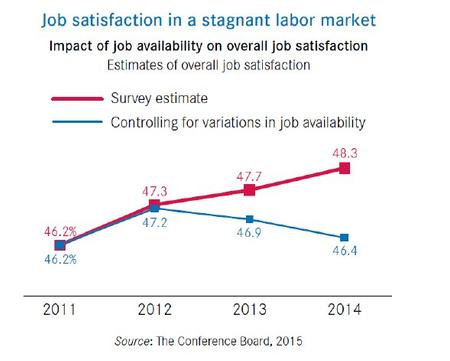 Note: Red line – actual job satisfaction. Blue line - Controlling for workers' perceptions of job availability
View our complete listing of Labor Markets blogs.