Corporate philanthropy often focuses on social issues in local and global communities, but companies' employee communities are also in need. Despite working harder than ever, more American families are struggling to make ends meet than in any other time in recent history. Nearly half of all American families currently live paycheck to paycheck. Census Bureau data reveal that the median income of all working-age households in the U.S. has decreased by about 9 percent since the Great Recession. The good news for some of these workers and their families is that many of the companies they work for will support them through disaster and hardship.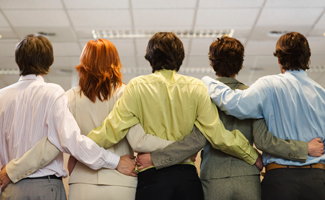 Numerous studies and employee surveys have examined the impact of financial stress on productivity in the workplace. A 2014 survey of human resource professionals by Society for Human Resource Management showed that 38 percent of workers are facing more personal financial challenges today than they did in 2007, at the onset of the Great Recession. Seven out of ten respondents reported that personal financial challenges impact their employees' ability to focus on work and overall productivity, as well as rates of absenteeism and tardiness.
Not only does financial stress impact productivity, it can also have significant impact on an employer's bottom-line. A 2010 study conducted by the Federal Reserve of Kansas revealed that, on average, the cost to employers of such financial stress is around $5,000 per affected employee.
Helping employees cope
Many businesses of all sizes are striving to create a culture that acknowledges the wellbeing of their employees and are putting in place strategies to help their employees cope. Given my own company's work, I have the opportunity to observe and connect with a host of organizations, programs and practices that are available to help employees during times of need, among them:
Employee Assistance Programs (EAPs), which are common at larger organizations, in particular. These programs offer access to counseling and other support to deal with personal issues that may affect job performance, such as depression, marital strife, addiction or grief.


"Passing the hat" among coworkers, an informal practice in which employees contribute financial support to each other during times of need — sometimes by department, sometimes throughout the company.


Immediate physical need support, in the form of clothing, food, shelter and mental health services, as provided by the American Red Cross and FEMA during times of natural disasters.
Disaster and hardship relief support
Other companies have taken the proactive step of establishing charitable disaster and hardship programs, which support employees facing unexpected, catastrophic events or circumstances, such as natural disasters, house fires, major illnesses or domestic violence. These programs can be managed internally or by a third-party provider.
For example, Home Depot, the home improvement specialty retailer, assists its employees through an in-house program. Eight full-time associates manage Home Depot's "Homer Fund," supporting more than 300,000 employees. This dedicated staff processes nearly 1,000 requests each month from employees who are not able to pay basic living expenses due to unexpected occurrences.
It all began with the generosity of Home Depot's co-founders Bernie Marcus, Arthur Blank, and Ken Langone, who each donated $5 million personally in 1999 to launch The Homer Fund. This $15 million in seed funding is indicative of the "culture of giving back" that exists at Home Depot and the company is unique in its scope and its capacity to manage such a robust program in-house.
Partnering with third-party providers
Others like McKesson, the healthcare services company, entrust their employee relief programs to third-party providers, which administer cash grant awards to qualifying employees. Partnering with a third party can offer cost-savings, efficiency and impartiality, as well as tax advantages for the company. These providers typically manage all components of program delivery, as well as financial oversight and counsel, allowing the company to remain focused on its business priorities.
Well-managed external programs are administered in strict adherence to IRS guidelines, a potentially burdensome process for human resources staff to manage internally. Furthermore, companies often struggle with potential bias in dealing with their employees' crises, particularly in "pass-the-hat" situations. A qualified third-party provider uses external subject matter experts to review applications and determine need, providing an objective and consistent process for providing support.
For more information on disaster and hardship relief, Making Ends Meet is a recently released whitepaper which illuminates the status of working American families, particularly those supported by lower-wage hourly workers. It underscores how financial stress can unduly affect productivity in the workplace.
And for more context on this subject, stay tuned in the coming weeks for an in-depth look at McKesson's employee relief program, which is administered by our company, E4E Relief, a third-party provider.
This blog first appeared on TCB's Giving Thoughts blog on 06/16/2015.
View our complete listing of Talent Management and Mission&Purpose@Work blogs.