A few weeks ago, we posted a blog titled, Huge Drop In New Job Ads For Oil-Related Occupations, describing the impact of the drop in oil prices on the labor market. Since then, we've learned more. Today, we draw on new data and our expanded analysis to update and add to our previous results.
Generally speaking, jobs related to oil and gas are declining, though still moderately. The February employment report from the Bureau of Labor Statistics shows a more visible decline here, but one that is still moderate for the two most related industries: oil and gas extraction and support activities for mining. Jobs declined by about 2% in these two industries between December 2014 and February 2015.
Next, layoffs. We have heard a lot of anecdotal evidence related to layoffs in oil-related industries in recent months. Now we have found systematic evidence of layoffs in workers' initial unemployment claims. Looking at BLS initial unemployment claims by state, seasonally adjusted, we compared the number of initial claims between June-September 2014 and January-February 2015 (Chart 1).
While the U.S. overall trend showed declining initial claims for unemployment, among oil-producing states the trend was clearly upward. In all eleven oil-producing states but Alaska, the number of initial claims increased. In North Dakota, Wyoming, and Oklahoma it increased by more than 30%.
Chart 1- Percent change in initial claims for unemployment (June-September 2014 versus January-February 2015)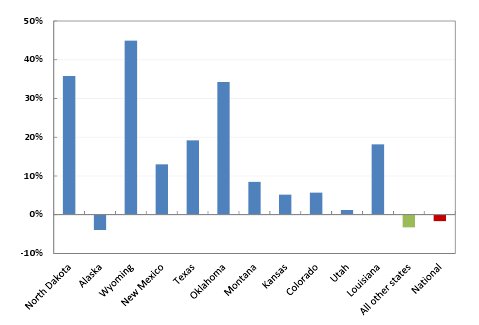 Note: Sorted by crude oil production per capita.
Source: Department of Labor and The Conference Board
On to hiring. February saw a further drop in new job ads for oil-related occupations. In fact, the number of new job ads declined by more than half between November 2014 and February 2015 (Chart 2). For six extraction occupations (derrick operators, rotary drill operators, service unit operators, wellhead pumpers, riggers, and roustabout operators) there was a further drop in February. Ditto high education occupations (petroleum engineers, all geoscientists except hydrologist and geographers, and geological and petroleum technicians).
Chart 2 – New job ads drop dramatically in oil-related occupations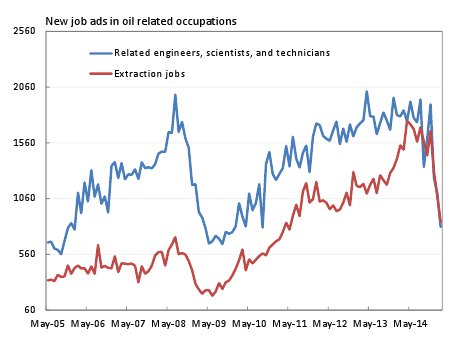 Note: Numbers adjusted for seasonality
Source: The Conference Board Help Wanted OnLine® dataset
In coming months, we will have more details regarding employment by locations, and we will discuss geographic trends in labor market tightness. Stay tuned.
This blog is part of our ongoing research on the impact of the drop in oil prices on the global economy. Our report on this topic will be released on April 15.
View our complete listing of Labor Markets blogs.