When you make popcorn to watch a movie on a cold, weekend afternoon, there are always a few kernels that don't get cooked. They are often called "old maids" and for some people -- but not us -- they are actually the best part of the popcorn. No matter your preference, these kernels have had all the right things done to them... they have been put in oil/butter, had high heat applied, and have been shaken or stirred... and they still did not pop.
Many organizational changes end with unpopped kernels. The unpopped kernel problem in organization change occurs when a leader signals a new strategy or tactic and does everything right to support the emergence of new behaviors, but gets no results from a few managers. The organization describes the new behaviors that are important to the execution of the strategy and provides training on them. It gives incentives to support acting in these new ways and so on. But, there are always some managers who do not get the message or refuse to make the shift. They are the unpopped kernels.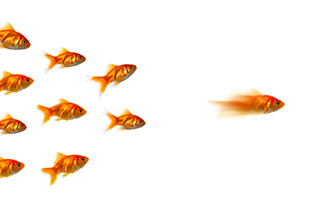 How change leaders deal with this issue plays an important role in the change effort's success and in determining whether their organization is agile enough to be effective in a rapidly changing world.
Managerial behavior has an important symbolic component. Like it or not, organization members often "look up" to people above them in the hierarchy. That is one reason why organizations like Nike, Gore, and DaVita don't have organization charts. People can spend too much time watching what senior managers do and say and engage in some recreational socio-political analysis to figure out what is important. But what if the managers they are watching are not aligned to the new strategy? It's very similar to the "walk the talk" issue. If managers say something is important but don't act as if it is important, something doesn't smell right and people begin to mistrust management pronouncements.
We first heard about the unpopped kernel problem at Allstate Corporation and discussed it in our new book, The Agility Factor. An initial transformation in a key part of the organization was succeeding where many had failed. Leadership had done a great job of integrating diversity and inclusion, establishing a clear vision, aligning work and structure, and developed appropriate incentives in support of an overall culture change effort. The change was accelerated by paying attention to the system as a whole, not just one part of it. The change was moving forward but -- in a culture that had grown a little stale over the years -- it was clear that not everyone within its management ranks had gotten the message. These managers had been given chances, they had been given feedback on their lack of alignment with the values, purpose, and strategy that had been agreed to, they had received help and support. And everybody was watching.
What had to be done -- removing the managers from their positions -- was easy to see, but as we all know from experience is hard to do on several levels. But with courage, the leaders of the transformation made the call and it re-catalyzed the change effort.
To be clear, we are not advocating for the removal of change resistors. The reasons for resistance often represent important information about a change that can be acknowledge and used to make a change process better. We are saying that in situations where the appropriate amount of effort has been made to help people change, and the behavioral change is not forthcoming, leaders have an important obligation to address those individuals. There are a variety of actions that can be taken, including removal, but leaders must have the courage to do what's right for the organization.
In an evaluation conducted a year later, people identified the positive and intentional handling of the unpopped kernel problem as one of the key drivers of the change's success. Addressing the unpopped kernel problem was a hard lesson that had to be learned; it is still hard to live the learning. But the managers at Allstate understood that if you don't address the unpopped kernels, the speed and success of change will be affected. The experience at Allstate should be a lesson for any leader of change who wants to develop an agile organization.
This blog first appeared on Huffington Post.com on 9/24/2014.
View our complete listing of Strategic HR and Leadership Development blogs.