Click here to take the Edelman Berland's Veteran Employment Survey!


The latest annual Edelman Trust Barometer revealed that five of six people surveyed believe business can pursue its self-interest while also doing good work for society. These findings confirm what I have experienced in my role as managing director of global engagement and corporate responsibility for Edelman, the world's largest public relations agency. In the three years since we started our Global Citizenship function, corporate responsibility and sustainability have evolved from a "nice to do" to "must have." Today, it is foundational to building trust among stakeholders.

Globally, stakeholders are setting the bar higher for greater accountability and transparency in how businesses operate externally and internally. As a company that provides corporate social responsibility consulting services through our Business + Social Purpose Practice, we had to "walk our own talk" and operate sustainably. Clients expect a company's business partners to be responsible global citizens in their employee, human rights, ethical, environmental, and sustainability practices.

This expectation explains why we received more than 400 RFP questions over the past few years asking us how we are integrating citizenship programs. The questions also sought information about our greenhouse gas reduction strategies, our workplace diversity and governance policies, our use of diverse suppliers, and other issues.

In addition to walking the talk and integrating citizenship policies into the business, the new expectation for trust necessitates becoming engaged and participatory. As our Trust Barometer indicates, engagement and integrity have emerged as the key attributes for building trust – making citizenship and purpose foundational to building a sustainable business.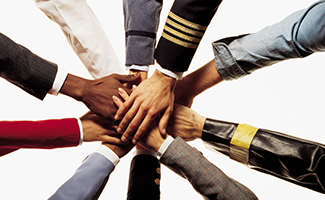 One area Edelman decided to engage with relates to veteran's issues. When my father, a World War II veteran, died last year, I wanted to do something to honor his legacy. He applied his skills and experience working in psychological warfare to build Edelman into the prominent organization it is today. A veteran currently working in a similar role must complete 200 hours of computer training. It's also the type of experience and knowledge much needed in private, public, and non-profit enterprise.

We have become involved in a public-private partnership called Veterans as Strategic Assets. It seeks to create a functional, sustainable pathway for student veterans – current, graduating, and alumni – that leads to meaningful employment. Working with Illinois Joining Forces, Student Veterans of America, the Illinois Department of Veterans' Affairs (IDVA), the Illinois Department of Employment Security (IDES), The Robert R. McCormick Foundation, and Illinois Hires Heroes Consortium (IHHC), this initiative comprises two phases — top-down engagement with employers and bottom-up training for veterans entering the workforce.

The top-down phase strives to educate employers on the unique talents and competitive advantages that veterans can offer their businesses, and how to most effectively engage, hire, and retain veterans.
With the objective of influencing policy makers and senior executives, this integrated effort combines research-based execution of guidance, level-setting, a road map, templates, and best practices to recognize today's talent as tomorrow's leaders.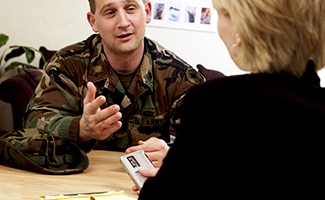 The bottom-up phase educates veterans on what to expect when entering the workforce, confronting common workplace challenges, and the translation of their experience and skills into a business-ready resume. Through a series of panel discussions and networking sessions, these student veterans will engage with local business and community leaders with the goal of establishing a new branding that transforms veterans to a top-of-mind resource from an employer blind spot. Companies who have participated in this program include Grosvenor Capital, GE, Kraft, Sears, Northern Trust, PepsiCo, and Caterpillar, among others .

We recognize, however, that we cannot improve what we do not first understand and then measure. Therefore, Edelman Berland, our research firm, has developed a comprehensive, cross-sectional survey that will help us better understand veteran employment. The questions will measure perceptions and attitudes and help create a more detailed understanding of the opportunities and challenges of employing veterans.

I invite you to join us by participating in this important discussion. Please click here to take our survey, and contact me if you are interested in learning more about this initiative.
Disclosure: GE, Kraft, Northern Trust, PepsiCo and Sears are Edelman clients, but joined this effort independently of their relationship with Edelman.
View our complete listing of Leadership Development, Diversity & Inclusion, and Strategic HR blogs.