For a majority of Europeans this European crisis seems to be a bureaucratic one that is battled in meeting rooms and at press conferences, it is much more real for people without a job for the second or third winter in a row. The amount of people that have been on long-term unemployment has shot up across Europe for the past years, with the countries at the center of the debt crisis seeing the most long-term unemployed.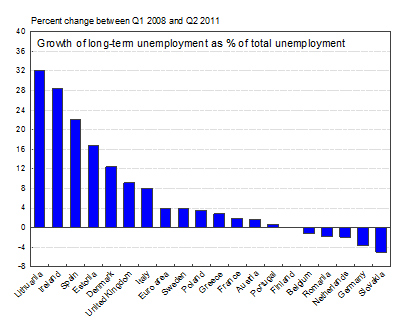 Countries like Ireland, Spain and the Baltics have seen a record uptick, which is largely related to the fact that these countries have had a housing bust. The industries that were severely hit, like construction, are unlikely to recover quickly, leaving a scar on its workers. People lose skills rapidly during a period of unemployment; they become rusty and lose touch with the latest developments in their field. They also become demotivated and therefore less likely to actively continue to look for a job. This is a very concerning matter that comes on top of the problems already at hand in these countries.
Therefore, active labor market policy is necessary to help the chronically unemployed; otherwise a whole range of people in the European periphery might lose touch with the world of employment. This would not only be a large drag on society, but also have its negative effect on the corporate world, as the pool for talent will decrease.