I am, and have been, a big fan of Jim Collins' research and written works. If I could only have ten books on my bookshelf that cover the topics of leadership effectiveness, business acumen and change management, Great by Choice would be one of them and it would be in my top five.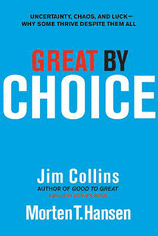 Over nearly two decades, Collins and his research colleagues haves made enormous contributions to our understanding of leadership effectiveness, change management and the factors that drive great business performance. In Great by Choice, Collins and his co-researcher/co-author, Morten Hansen, have converted nine years of rigorous research by a team of over twenty, into a book that answers the following question: Why do some companies thrive in uncertainty, even chaos and others do not?
Collins is the author or co-author of six books that have sold over ten million copies. His best-known books are Built to Last, Good to Great, How the Mighty Fall and now, Great by Choice. His latest book focuses on the factors that characterize great business performance during periods of unpredictable, unstable and very-fast moving times.
The authors highlight companies that achieved greatness (i.e. beating their industry indexes by a minimum factor of ten over fifteen years in environments of turbulence and changes that otherwise could not be predicted). The authors refer to these companies as "10 Xers" and they are carefully analyzed against comparison companies that were unable to achieve this same measure of greatness in similar conditions and environments.
Quoting from the book, the following are some of the key findings:
The best leaders were not more risk taking, more visionary and more creative than the comparisons; they were more disciplined, more empirical, and more paranoid.
Innovation by itself turns out not to be the trump card in a chaotic and uncertain world; more important is the ability to scale innovation, to blend creativity with discipline.
Following the belief that leading in a "fast world" always requires "fast decisions" and "fast action" is a good way to get killed.
The great companies changed less in reaction to a radically changing world than the comparison companies.
The great companies and the leaders who built them were not luckier than the comparisons, but they did get a higher return on luck.
Great by Choice is very well written. It is an informative, clear and compelling read. Similar to Collins' previous works, the authors identify evidenced-based principles and identify them with unique and memorable names.
To many of us, principles from Collins' earlier works such as "Good is the enemy of great", "Level 5 leadership", "First who, then what" have become part of our professional lexicon. There is deep and compelling evidence for each of these and many other principles.
Now, add to these, principles such as:
10Xers
20 mile march
Fire Bullets, then Cannonballs
Leading above the Death Line
Zoom Out, Then Zoom In
SmaC Recipe
Return on Luck
Collins is also a superb "reader" and the audio version is not to be missed. He has a unique speaking and storytelling style.
I enthusiastically recommend this book. Practitioners and researchers will find many points of value and application in Great by Choice.