If you like following Gad Levanon's blogs, you may be interested in our one day, first of its kind, seminar on how human capital professionals can use labor market data to make better decisions.
Click here to learn more or to register, or contact Amy Thyberg at Amy.Thyberg@TCB.ORG or Tel: +1 (212) 339-0407

According to The Conference Board's job satisfaction survey, worker satisfaction levels are relatively low. This is not surprising given the very weak compensation levels since the Great Recession, especially for new graduates and people hired after unemployment. One would think that in such an environment retention rates would be low as dissatisfied workers look for better options.
However, as can be seen in Chart 1, relatively few people voluntarily quit their jobs. Quit rates are still well below pre-recession levels. This chart provides an explanation for why quit rates are low. Quit rates almost mirror the unemployment rate. When unemployment is high, there are relatively few outside options for existing workers. When the unemployment rate starts to decline, quit rates increase. Since unemployment rates are still well above normal, it is not surprising that quit rates are well below normal.
This chart also raises an additional question: the unemployment rate has continued to decline during the past year, so why has the quit rate stopped increasing? This is still an open question. We predict that the unemployment rates will continue to decline, reaching 6.5% in 2015. In addition, we expect that as unemployment rates continue to decline, quit rates will rise.
Chart 1 – unemployment and quit rates
Source: JOLTS, Bureau of Labor Statistics
For human capital executives, retention rates are among the most followed metrics. Replacing existing workers is very costly and companies are aiming for higher retention rates. The damage from high retention rates has been felt in some industries more than others. In Chart 2, we reveal quit rates for specific industries during the most recent 12 months versus prior to the recession. The mining and logging industry, which has been recently booming, is the only industry in which quit rates are higher now than before the recession. In all other industries, current quit rates are below pre-recession rates. In the Federal Government, quit rates are less than half of what they used to be before the recession. In construction, finance, and manufacturing, quit rates are also relatively low as these industries have lost many jobs during the Recession.
Table 1 – quit rates by industry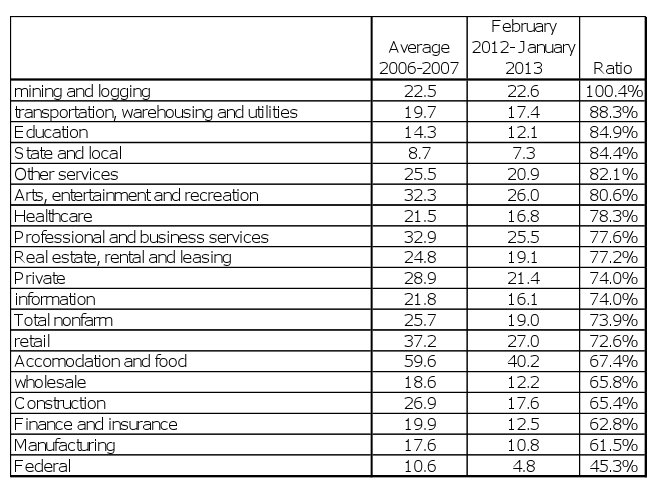 Source: JOLTS, Bureau of Labor Statistics
View our complete listing of Labor Markets blogs.