A few weeks ago the US Census Bureau provided a rare window into the growth of workers acting as independent contractors with its release of 2015 non-employer business statistics.1 Using Schedule C tax filings from the IRS, the Census Bureau compiled a record of all businesses with no paid employees that file tax returns showing at least $1,000 in receipts. These Schedule C forms are often used by independent contractors because they allow taxpayers to report income paid to them by others or businesses using 1099 forms. The non-employer business measure mixes sole proprietorships like family-run grocery stores with freelance writers and therefore provides an imperfect metric for tracking the growth of independent contracting. However, non-employer business data still represent one of the best tools available for assessing national, state, and industry trends in independent work. In 2015, the number of non-employer businesses grew by 2.1 percent, around its average of 2.0 percent since 2010 and well below its 4.1 percent average growth between 2002 and 2007. So far, stronger growth of 3.6 percent in 2014 has not translated into a sustained acceleration in freelancing activity.
Figure 1: Non-employer business growth has been slower since 2010 than before 2007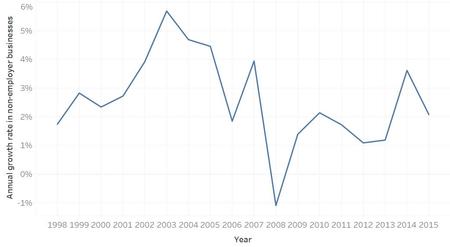 Sources: U.S. Census Bureau, calculations by The Conference Board
The "transportation and warehousing" industry represents a notable exception to this trend. Non-employer businesses in this industry grew by 13.5 percent in 2014 and 22.2 percent in 2015. This sector is particularly interesting to look at because rising smartphone usage appears to be fueling growth in independent contracting in transportation, but not in the labor market as a whole. Between 2011 and 2015 the share of adults who owned smartphones rose from 35 percent to 69 percent. While a consumer-centric platform like Uber relies on a large number of smartphone users to fuel growth, on business-centric platform like Upwork, employers and employees are more likely to be sitting at personal computers looking for workers. Engagements between businesses and employees, even those mediated through labor market platforms, are likely to last longer than a taxi ride and can be completed with less haste. It is unclear therefore whether there is a technological wind at the back of online labor market platforms which will encourage their growth over the next few years and lead to faster and broader-based growth in independent contracting.
Figure 2: In the transportation and warehousing industry, non-employer business growth accelerated in 2014 and 2015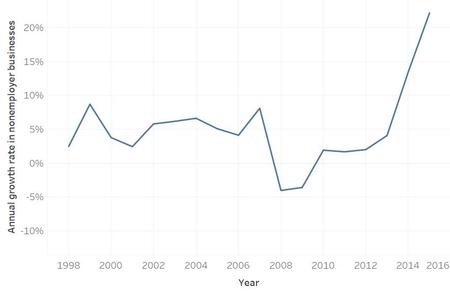 Sources: U.S. Census Bureau, calculations by The Conference Board
Because non-employer business data are compiled from tax records, sample sizes are much larger than for surveys designed to directly estimate the share of independent contractors in employment. A few of these surveys have found that independent contracting grew as a share of total employment from 2005 to 2015. Results from the Bureau of Labor Statistics' (BLS) Contingent Worker Supplement (CWS), run in 2005, found that 6.9 percent of those employed worked as independent contractors in their main jobs. A modified version of this survey is being conducted again this year by BLS. To provide an early preview of what the new Contingent Worker Supplement might show, economists Lawrence Katz and Alan Krueger commissioned a more recent survey modeled after the 2005 CWS. They found that by 2015, the share of all employees who self-identified as independent contractors had increased to 8.4 percent. The General Social Survey, conducted by The University of Chicago's National Opinion Research Center, found that between 2006 and 2014, the share of employees who identified their main job as one where they worked as "independent contractors, independent consultants, or freelance workers", increased from 13.5 percent to 14.2 percent, though this increase was not statistically significant.2 Due to its scale, the Census Bureau's non-employer data can provide a more complete picture of trends in independent contracting growth than these surveys. The recent slowing of non-employer business growth signals that so far the growth of smartphones has not fueled continued increases in independent contracting as one might have expected.
State-level comparisons provide a useful perspective on how trends in independent contracting may differ based on a state's economic structure, its degree of urbanization, and regulatory policies regarding online labor market platforms. Non-employer businesses have grown faster in both California and New York than they have in Ohio.
Figure 3: California and New York have seen stronger growth in non-employer businesses than has Ohio
Note: Lines and shaded areas represent periods of recession
Sources: U.S. Census Bureau, calculations by The Conference Board
Where large differences in state growth trends emerge is in the transportation and warehousing sector. Transportation and warehousing non-employer businesses have grown far faster in California than in either New York or Ohio since 2010. California, of course, is home to both Lyft and Uber. Indeed, most of the fastest growing states for non-employer businesses in transportation and warehousing in 2015 are either in western states or contain metropolitan areas with technology industry hubs like Boston and Washington, D.C.
Figure 4: For 2015, growth in transportation and warehousing industry non-employer businesses are concentrated in the west and near cities with large technology sectors like Boston and Washington, D.C.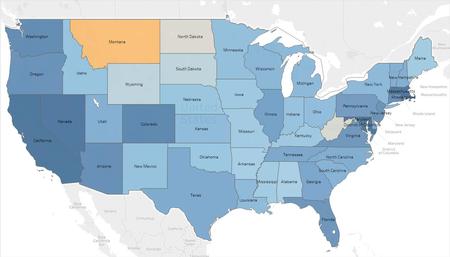 Sources: U.S. Census Bureau, calculations by The Conference Board
This preliminary analysis of the Census Bureau's 2015 non-employer business data is not meant to throw cold water on the potential of online labor market platforms to drive growth in freelancing. Such platforms reduce labor market frictions and will therefore encourage businesses to experiment. These platforms provide an opportunity for companies to build more flexible workforces, reduce costs, and access critical skills that they have only limited and temporary use for. Outside of transportation though, this process is still at an early stage. These results are broadly consistent with research from Seth Harris and Alan Krueger of The Hamilton Project, who found that Google Trends searches for Uber in 2015 were 25 times more frequent than those of non-transportation industry online labor market platforms like Upwork, Fiverr and Amazon's Mechanical Turk.3

For every good or service a business procures, it must decide whether to acquire it in-house using its own employees, or to obtain it from an external contractor or vendor. During the next few months, The Conference Board will be releasing several studies that examine these decisions in detail. Is the pace at which jobs are moving off a firm's own payroll accelerating? In what kinds of occupations are contract arrangements growing fastest? What challenges do businesses face in harnessing online labor market platforms to their advantage, and why have they not been doing this in more industries and at a faster pace? At this stage, the greatest impact has been seen on consumer-centric platforms like Uber. More time is needed before a wider variety of businesses fully exploit these new ways of filling vacancies.
View our complete listing of
Labor Markets
blogs.
---
[3] I excluded Grubhub from my description of the Harris and Krueger findings, Most searchers I assume are seeking to order from participating restaurants rather than seeking employment opportunities at a restaurant or at Grubhub itself.