The relationship between business and social media is changing, with companies reporting a decline in overall social media use and with some platforms over the past year (Chart 1), according to the most recent findings from Reassessing Both Social Media Tools and Paid vs. Free Social Advertising: The Evolving 2018 Inc. 500—an annual study by the Center for Marketing Research at the University of Massachusetts Dartmouth. Each year, the Center studies the social media use among Inc. Magazine's top 500 companies (Inc. 500), based on interviews with Inc. 500 executives and data collected via the companies' websites, using links to their social media platforms.
Inc. 500 executives found LinkedIn, Facebook, and Twitter to be their most effective platforms, as has been the case for the past six years. Blogging is now the fourth most effective social media tool and is being used by half of companies studied.
Chart 1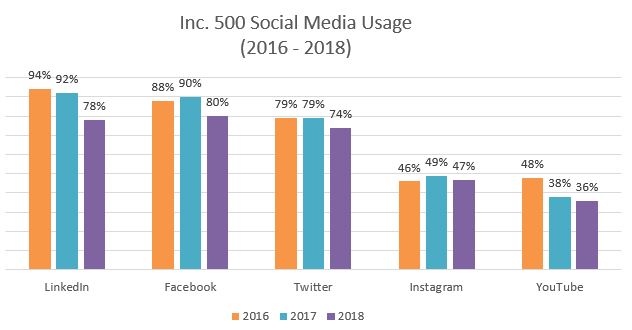 Other findings
Instagram adoption decreases for Inc. 500 companies Chart 2 shows that while both Fortune 500 and Inc. 500 companies steadily increased adoption of Instagram between 2013 and 2017, the number of Fortune 500 companies adopting the platform in 2018 grew while the number of Inc. 500 companies adding it dropped. However, Instagram remains an important tool for some Inc. 500 segments to reach consumers. The top five represented industries in the Inc. 500 include Consumer Products and Services and Advertising and Marketing, both of which directly target consumers through Instagram.
Chart 2
Inc. 500 companies struggle with formal social media plans Companies are still figuring out the best way to use and regulate social media. Only 21 percent of Inc. 500 companies had a stand-alone social media plan in 2018, while 43 percent had one incorporated into their marketing/business plan. Slightly more than a third (35 percent) still did not have any form of written social media plan, but this is an improvement from 2017 when half of companies didn't have one.
Concern over negative attacks online increases In 2018, 41 percent of Inc. 500 companies reported having a crisis plan in place in the event of an online attack, up from 30 percent in 2017. Maintaining their online reputation and the integrity of their social media accounts became more important as online hacks and attacks increased.
Concern over data privacy grows As companies become aware of the value of collecting customer data, they have also become subjected to consumer data privacy laws, which vary by region. Likewise, they are increasingly wary of their own company data being the target of an online attack. The loss of data could prove extremely costly whether through malicious use or through a lawsuit.
CEOs are still paying attention to the ROI of social media Despite a decline from 2017, the ROI of social media remains important among CEOs, with slightly less than half reporting some degree of concern about resources devoted to it, and whether the returns warrant the effort. As platforms become more alike in their capabilities, companies may want to evaluate and then consolidate or limit resources invested in the tools/platforms that are less effective at achieving company goals. Chart 3 shows CEOs' concerns regarding social media from 2015 to 2018.
Chart 3
Concerns Regarding Social Media

% Concerned

(2015)

% Concerned

(2016)

% Concerned

(2017)

% Concerned

(2018)

Return on Investment

36%

59%

55%

48%

Resources devoted to social media

31%

52%

38%

37%

Privacy Issues

33%

42%

33%

38%

Analytics

28%

41%

35%

31%

Legal Issues

28%

36%

28%

35%

Ethical Issues

22%

32%

24%

28%
Blogs are more popular among Fortune 500 companies than among Inc. 500 companies For the first time, a greater share of revenue-based Fortune 500 companies used blogs than Inc. 500 companies. Chart 4 shows the use of blogs in both segments from 2010 to 2018. The frequency of blogs fluctuated each year for both segments and until 2018, Inc. 500 companies consistently had higher percentages. In 2018, 53 percent of Fortune 500 and 50 percent of Inc. 500 companies used blogs to engage their audiences.
Chart 4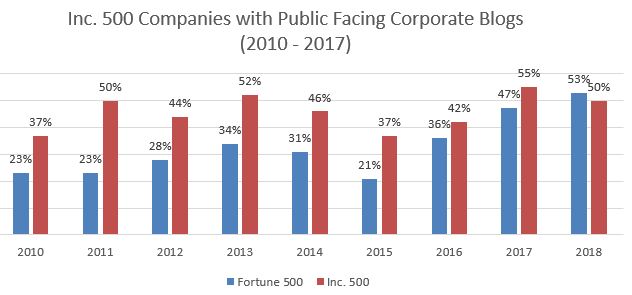 Almost half (48 percent) of Inc. 500 companies are considering alternatives to free social media And, nearly half (49 percent) believe the value of social media has leveled off. While the use of free social media among Inc. 500 companies increased during the past several years, the ratio declined slightly in 2018. One possible reason is the perceived waning value of free social media platforms. Executives may have directed efforts toward paid tools if they reached a plateau with free ones.
It appears that the role of social media in business is being reevaluated. While Inc. 500 companies remain active on social media and know which platforms work for them, they still maintain the least effective ones because they think it enhances brand awareness. However, it may not help sales. As a result, they are questioning whether their social media effort provides a return on investment, and the majority believe free platforms and tools have plateaued in benefits, thus compelling them to consider paid alternatives. Social media still deserves a seat at the table, but businesses can only realize ROI if they invest in what works and drop what does not.