After a major drop in the number of online ads in March and early April, early signs suggest small employers are leading the ramp up in hiring as the economy begins to reopen.
The Conference Board®-Burning Glass® Help Wanted OnLine™ (HWOL) data series collects millions of online job ads in real-time and classifies them by occupation, industry, location and essentially any other type of information that can be extracted from the ad description. The real-time nature and deep coverage of the HWOL data series allows us to analyze the labor market in far greater detail and in a much timelier fashion than we could otherwise with traditional government surveys. This is an advantage that is exemplified by COVID-19 and its wide impact on the economy.
Using the HWOL data series, we examined the hiring behavior of employers by their size between February and the last 4 weeks ending in May 10. To determine each employer's size, we calculate the average number of ads each employer posted over 4-week periods in recent years prior to the COVID-19 outbreak. We believe there is strong correlation between the typical number of ads a company posts and the number of workers in that company- larger employers tend to hire in greater volumes, while smaller employers hire more sparingly. In the chart below, the top panel shows the number of active employers (i.e. employers who posted at least one ad in each period) in each week. The bottom panel chart shows the total number of new ads posted by employer size. Each of these measures have been indexed to their initial value as of March 1st so that we can more easily compare changes over time between groups of employers.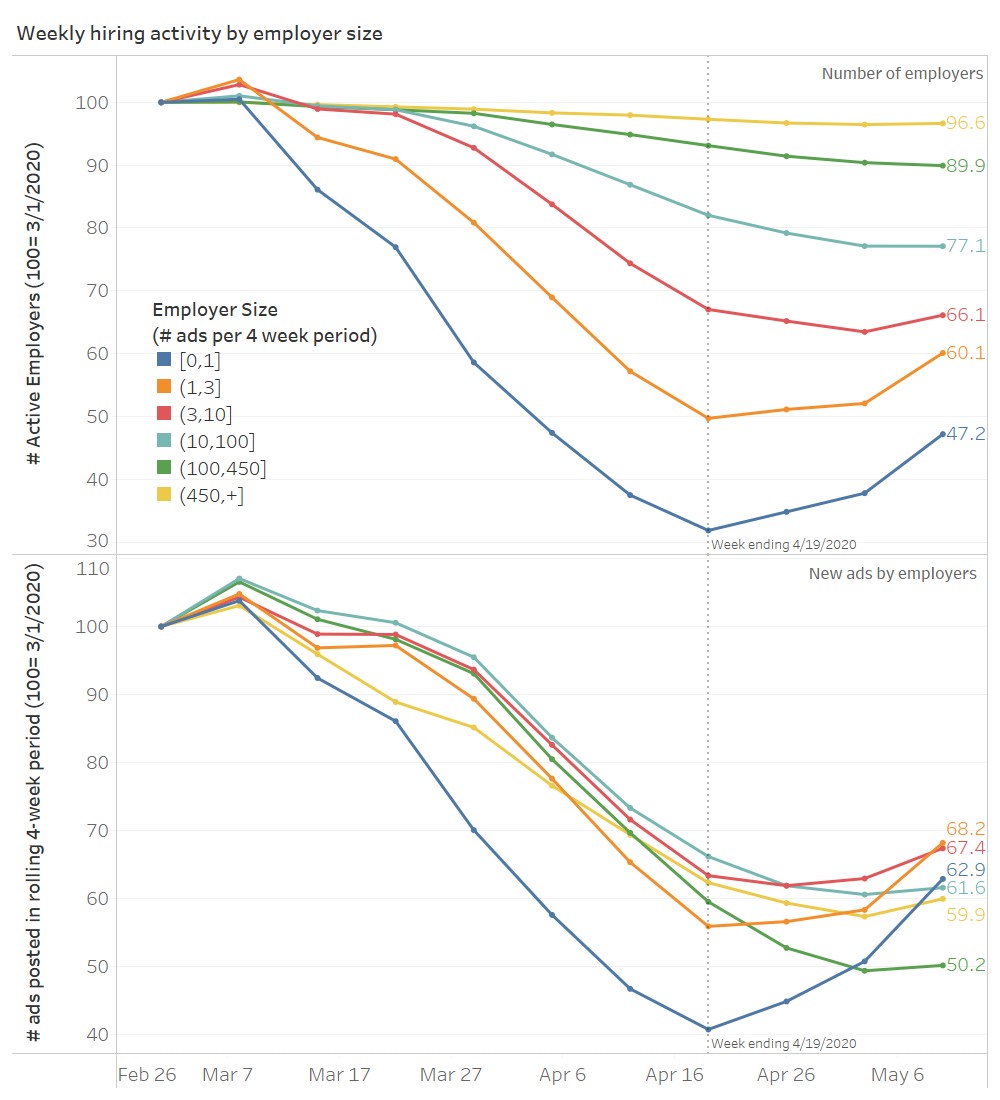 Source: The Conference Board
The chart shows that starting in early March, both the number of posting employers and the number of ads started to sharply drop. Unsurprisingly, the drop was far more dramatic for the smallest group—the many employers that used to post at most one ad every four weeks (blue line). These employers typically have smaller financial reserves and were quickly disrupted when the pandemic hit. In the four weeks ending in April 19, the number of ads in this group was almost 60 percent below February levels.
But since April 19, the downward trend has begun to reverse. The two smallest groups of employers have begun to rise sharply in terms of number of active employers and number of new ads. Since many of these employers were forced to let go of their workers when their businesses were shut down, new hiring is likely to partly reflect filling of previous positions in addition to hiring for new positions.